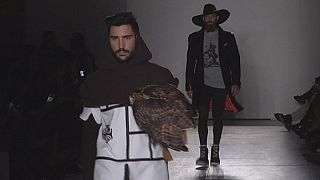 The 44th Lisbon Fashion Week has kicked off in the Portuguese capital under the theme 'Curiosity'.
Throughout the weekend some 30 Portuguese designers showcased their collections for the upcoming Autumn-Winter season.
London-based designer Olga Noronha presented an original collection supposed to act as a 'second skin'.
Clothes were cut to reveal metaphorically the complex set of channels that conduct blood flow, including a network of vessels, arteries and veins.
Entitled 'Tall', Ricardo Andrez' collection featured dark tones worn by androgynous, bald models. The mood was chaste with flowing ecclesiastic-like skirts and details reminiscent of clerical collars.
In a collection the designer said was inspired by women in black who live in rural areas, Dino Alves showcased outfits dominated by black with the occasional outburst of colour.
Entitled 'Hail Color!', Alvez said it was "a message of faith and hope".
The second day of Moda Lisboa saw some of the most renowned Portuguese designers present their collections.
Ricardo Preto's 'Quiet Riot' was a statement of elegance and restraint meant to reflect on the contemporary woman and the challenges she faces.
Aleksandar Protic, a Serbian designer based in Portugal, presented a collection inspired by the work of American painter Georgia O'Keeffe, combining geometric, structured and fluid forms in a palette ranging from pearl to black, gold and silver.
Designer Filipe Faisca worked in partnership with an NGO involved in workshops with children suffering from cancer. The result was a collection in cotton, leather, silk, linen and even neoprene featuring patterns in black and white designed by the children themselves.
And finally, influential Portuguese designer Nuno Gama sought inspiration for his collection in Os Lusiadas, an epic, classic poem about the Portuguese voyages of discovery of the 15th and 16th centuries.