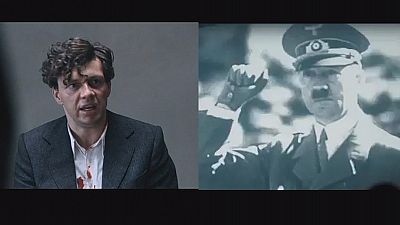 In '13 Minutes', Oliver Hirschbiegel tells the story of Georg Elser, a German carpenter who planned and carried out an assassination attempt on Adolf Hitler and other high-ranking Nazis at a party meeting in 1939.
Elser missed his target by 13 minutes, when Hitler left the building earlier than planned.
The German film director, who earned critical acclaim for his 2004 award-winning movie 'Downfall' about Adolf Hitler's final days, compares Elser to whistleblower Edward Snowden: "That's the beautiful thing about Georg Elser. He's like (Edward) Snowden basically, Snowden today. He has no selfish interests, he just has this belief inside him, this need that comes from deep inside him that that has to be stopped. It's all about freedom, freedom of speech, freedom of movement, individuality, all that that Elser sees going down the drain."
The film pays homage to a largely unsung hero, who spent every night in the building where the meeting was to be held over the course of a month digging a hole in the brickwork to install his home-made bomb.
"The movie is a very good thing to look in another way at this history. I'm not even a political person, but I learned that we are all political people and we all have a voice, an important voice in our democratic systems," says Christian Friedel, who plays the role of Elser.
In one scene, Elser overthrows the bullying husband of his lover, played by Katharina Schüttler, in what could be seen as a test-run for the attempt on Hitler's life.
"By telling this story in this microcosmos of a really small town, like a village, it's very easy to understand and to be a part of it, to go through the story and see how people change and why they do what and how the really private conflicts are being mixed up in this whole political situation," says Katharina Schüttler.
Georg Elser was arrested as he was trying to cross the border into Switzerland. Interrogated by the Gestapo, he was tortured and admitted being the single perpetrator of the assassination attempt. He was later deported to Dachau where he was executed shortly before the end of the war.
Premiered at the Berlin Film Festival, '13 Minutes' will be on global release from April.