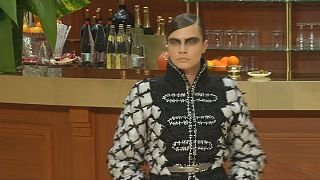 A pop-up brasserie named after Chanel's founder Coco, whose real name was Gabrielle, was the latest creation by Karl Lagerfeld to show off his upcoming collection in Paris' Grand Palais.
It was a fitting backdrop for a show aimed at celebrating the essence of Parisian style.
Besides showcasing an array of Chanel staples – slimly tailored knit suit jackets paired with pleated or cigarette skirts – Lagerfeld had some fun playing with creases: sleeves were covered with hundreds of crinkly tucks, giving volume and modernity to the otherwise traditional shapes.
For her ready-to-wear collection, Dutch designer Iris Van Herpen collaborated with Polish-born textile designer Aleksandra Gaca to create 3-D hand woven textiles.
"The central material in the collection is a very thin metal weave. It's stainless steel, but so thin that it becomes really like a fabric and we've been hand-burning it with fire so all the colours that you see are created by fire and not by paint or other things. So these natural processes were really important," said Iris Van Herpen.
Entitled 'Hacking Infinity', her collection featured ultrathin metallic material with an iridescent sheen that could be molded at will into little dresses and delicate fan-like tops. "Even the shoes were feats of technology"http://www.nytimes.com/2015/03/12/fashion/as-paris-fashion-week-2015-ends-louis-vuitton-alexander-mcqueen-and-miu-miu.html?_r=0: towering 3-D-printed explosions of crystals, they were made in collaboration with Japanese designer Noritaka Tatehana, well-known for designing Lady Gaga's famous avant-garde footwear.
Alexander McQueen designer Sarah Burton staged her show at the Conciergerie, the dungeon where Marie Antoinette was held before being taken to the guillotine.
Displaying a distinctly Victorian flair, the collection combined the sweetness of pale pink ruffles with the sensuality of black leather and lace.
Mexican actress Salma Hayek, whose husband is CEO of the company that owns the brand, was enchanted: "I loved the way everything was sort of disheveled and it moved, you know, the laces, the fringes, all the little skirts, the little details. I mean she is such a genius with the detail. I had a chance to go behind, and when you look at this silky lace, and all the detail – it is mind-blowing."
Sarah Burton was named creative director of Alexander McQueen by company owner Gucci after McQueen's death in February 2010.