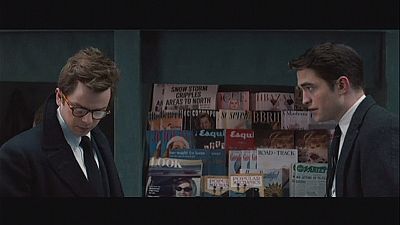 Among this year's big star buzz at the Berlinale was the world premiere of Robert Pattinson's latest film 'Life'.
The movie is a snapshot in the life of James Dean – it examines his relationship with photographer Denis Stock, who is responsible for some of the most iconic images of the legendary actor.
Dean is played by Dane DeHaan, with Pattinson in the role of Stock.
The director is acclaimed photographer-turned filmmaker, Anton Corbijn, who gave his young star a few tips on how to feel comfortable with a camera.
"I think we got your camera 3 or 4 months prior to shooting – an old Leica from that period, and some film -and then I left Rob at it. I think it was important that he familiarized himself with an old-fashioned camera and made it feel like part of his body in a way, so that by the time it came to shooting it was a natural instrument around the body," said Corbijn in Berlin.
"It's weird because I started to get into it outside of my interest in the movie and then, when we started rehearsing, I tried to get normal photography tips from Anton, and he was like 'This isn't just about how to take photographs, it's actually a character thing," said Pattinson.
The film premiered to mixed reviews in Berlin with one critic calling it an engaging portrait of a legend in the making, while another deplored the lack of connection between the two characters saying the story feels counterfeit.
Showing out of competition at the 65th Berlin Film Festival, 'Life' will be released later this year.