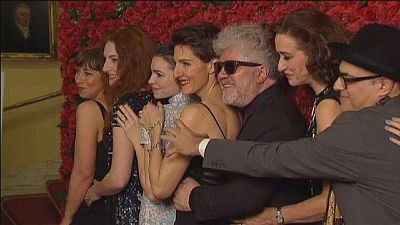 'Women on the Verge of a Nervous Breakdown' is a new musical in London's West End based on Pedro Almodóvar's 1988 cult movie.
The show has been adapted to the stage by Jeffrey Lane and David Yazbek, who also turned films like 'The Full Monty' into musicals.
The award-winning Spanish filmmaker was beaming on opening night: "This is completely new – that a Spanish movie becomes a musical in English, this is completely historical. So I feel very proud of this movie," said Almodóvar.
The story centres on Madrid resident Pepa, whose world falls apart when her married lover leaves her for his second mistress.
Yazbek's Spanish-flavoured music sets the pace, contributing to the musical's dizzy sense of life falling apart.
"The key with any kind of musical is that you want to find something that has a reason to sing, a reason where speaking won't do anymore and you have to start singing. And there's a passion in Pedro's work and a craziness in his work and a uniqueness in his work that we felt was very well suited to singing," said the director of the Playhouse Theatre, Bartlett Sher.
The cast is led by popular British actresses Haydn Gwynne and Tamsin Greig, who have received critical acclaim for their performances.
"You know there's so much joy in this production and in this story. You know it's a desperate tale of finding hope and the joy that underpins it," said Tamsin Greig on opening night.
A previous version of the show which opened on Broadway in 2010 proved a flop and was forced to shut early due to low ticket sales. Makers of the London show say they have learnt the lessons of Broadway, creating a much smaller show, with a completely different musical flavour.
'Women on the Verge of a Nervous Breakdown' runs at London's Playhouse Theatre until early May.