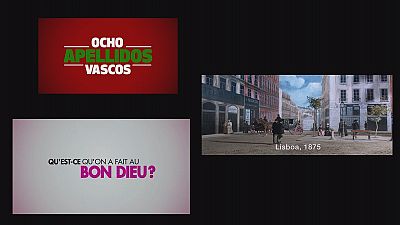 Let's take a look at some of this year's box office hits in Europe.
The comedy 'Ocho apellidos vascos' is Spain's second most watched movie ever after 'Avatar'.
The story revolves around Rafa, who has never left his native Andalucia. One day he meets Amaia, a Basque girl, who resists his seduction techniques. Against his friends' advice, he follows her. Ensues a series of misunderstandings which force Rafa to pretend he is Basque as he gets more and more entangled in his own lies.
In France, the most popular movie this year was the comedy 'Qu'est-ce qu'on a fait au Bon Dieu?'.
Distributed under the English title 'Serial (Bad) Weddings', it tells the story of two white, Catholic parents horrified by their daughters' choice of husbands – three of them have married men from other religions and ethnic backgrounds, including an Arab Muslim, a north African Jew, and a Chinese man. The parents place all their hope in their youngest daughter, only to find out her Catholic fiancé, Charles, is from Ivory Coast.
The movie has been seen by more than 12 million cinema-goers in France, and is also a hit in other European countries including Germany.
And in Portugal, the most viewed film of the year was 'Os maias' by Joao Botelho, adapted from one of the greatest classics in Portuguese literature. A family saga, love story and social satyre all wrapped into one, it's a boldly stylised costume drama about a country's decline in the late 19th century.