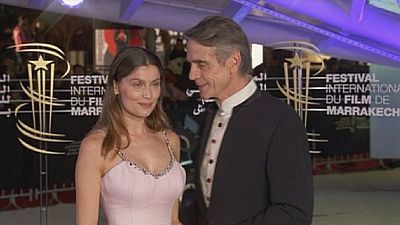 The 14th edition of the Marrakech International Film Festival is underway.
The event features 87 films from 22 countries spanning the spectrum of human emotion. For those in competition, the themes are truth and the search for meaning, some humorous and heartwarming, others dark and disturbing.
Among the 15 films vying for the top accolade is 'The Blue Elephant' by Egyptian director Marwan Hamed, the story of Dr. Yahya, a psychotherapist who treats criminals and one day finds that one of his patients is an old college friend.
Starring as the psychotherapist, Karim Abel Aziz told euronews he was delighted his film was in competition.
"It's different to any of the roles I have played in the past 17 years," he added. "That's why I did it. I changed my face and I lost ten kilos."
Marrakech makes a point of backing auteur and freshman cinema – eight of the 15 movies in the Official Selection are first films, including 'Things People Do', that marks the directorial debut of veteran film editor Saar Klein.
"It's about a very good man in America, a middle management man who loses his job and starts to fall apart and do things that go against who he believes he is, a life of crime that grows bigger and bigger, and it's about dealing with your decisions and trying to protect the family in a world that is very complicated – today's world," Klein told euronews.
Every year, the festival honours figures who have served the film industry with distinction. With over 100 movies to his name, Egyptian actor, Adel Imam, was awarded a career tribute.
A prolific actor, Adel Imam is not only a household name in his native Egypt, but throughout the Arab-speaking world, mostly for his roles as a comedy actor. A staunch defender of the refugee cause, Imam also tackles socio-political and religious issues in his movies and was appointed U.N. Goodwill Ambassador in 2000.
Oscar-winning British actor Jeremy Irons also received a career tribute. Paying homage to Irons, French actress Laeticia Casta said he followed in the footsteps of British giants like Richard Burton, Anthony Hopkins and Cary Grant, who went on to conquer Hollywood.
This is Irons' third time in Marrakech, and he told euronews how much he enjoyed the city: "I love a good bargain hunt, I was down this morning selecting carpets for my son and enjoying the tea, which I really love – the mint tea – and haggling with a man who knew his carpets even better than I did."
To the remark that he now had his very own red carpet, the legendary actor quipped: "A red carpet, yes.
"We could actually do better," he added with a smile, "we could have a nice Berber carpet instead of this Wilton or whatever it is."
Euronews will be bringing you more from the Marrakech Film Festival, which wraps up on December 13th.