After the success of our episode Co-op tool for social entrepreneurs (watch below) we wanted to find out more about this 'cooperative' style of working. What does it mean and what's in it for us?
So who better to teach us then Rhiannon Colvin founder of AltGen – a project that helps young people set up cooperatives in the UK.
Hello Rhiannon. Tell us a bit about yourself!
Hello! So my name is Rhiannon Colvin and just over a year ago I graduated and found myself in a reality I was totally unprepared for. I had a good degree and had done lots of volunteering and part time jobs. I wanted to move to London and get a good job in the charity sector. However after a few months of waitressing part time and applying for numerous, mostly unpaid, internships I decided that this was absolutely crazy and as long as we all fought against each other for unpaid work we would remain very powerless.
So what did you do?
I decided to leave London and do 3 months of research on youth unemployment in Portugal and Spain, to see what alternatives were emerging there. I returned to London very inspired and set up AltGen. So I am the founder and currently only full time member of staff. Whilst there are people who help me out here and there, I am in the process of trying to build up a diverse and committed team to develop and grow.
So What is AltGen exactly?
AltGen is a new project that supports 18-25 year olds to set up workers cooperatives. It will do this in a number of ways. Firstly, by inspiring youth, through running workshops in universities and colleges to promote the narrative that a different economic future is possible but only if we create it ourselves. Secondly, through facilitating young people to find others interested in creating a co-operative. And thirdly through supporting young people to set up co-operatives through start up grants, business and legal advice.
But what exactly is a workers cooperative?
A workers cooperative is a specific form of social enterprise in which the workers own the business, decisions are made democratically by all members, and profit is distributed equally and fairly between all members. Initially my focus had been on social enterprise as a whole; however I think there is a danger of replicating the current unequal and undemocratic economy with many of the legal structures that social enterprises take. Our generation is experiencing a huge lack of ownership or agency in the economy. Cooperatives are a way of redistributing financial power from the few to the many, and of giving us a democratic say over a key area of our life; work.
So are the benefits just financial?
Not at all. Equal and fair pay is just one thing co-operatives can offer our generation. Democracy, and having your voice heard in your place of work is another.
But most importantly, I think if young people are to really step away from the current work options being presented, they need to do it together and not on their own. The model of social entrepreneurship that is often presented is the idea of the amazing individual going out there and doing it on their own, but that's often not the reality, and not all of us possess those qualities. Cooperatives offer a collaborative model, that allows us to support and inspire one another, to share risk, to build confidence and to appreciate different skills and ways of working.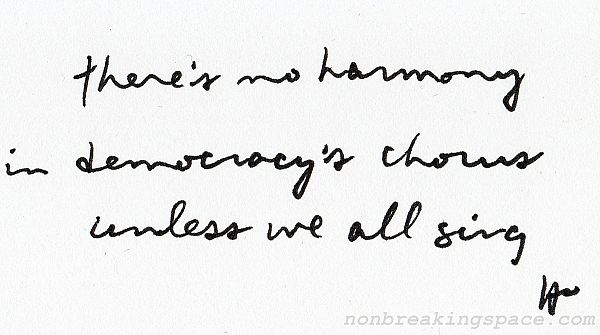 But are there any drawbacks to this kind of model?
Of course, no model is perfect. Decision making processes do take longer when done collectively and can sometimes be difficult and frustrating. And not everyone puts in the same amount of work and creates the same amount of value for a company, so equal pay may actually seem unfair and quite repressive. However this is why I am really optimistic about our generation engaging with the co-operative model, as I think it has so much we can learn from it – but it is also something we can innovate and develop. For example there are ways of collectively measuring and valuing different tasks and contributions to the work place so that pay is fair and reflects contribution rather than just being equal across the board.
Are there any examples of successful cooperative businesses that could be looked to as a role model?
There are so many, so it really depends in which country and in which sector. As my research was carried out in Spain I was inspired by many there: the renowned Mondragon because of its scale with over 80,00 workers and longevity – running for over 50 years, Coop 57 a cooperative bank that finances and supports other coops across the Spain and most excitingly 'Cooperative Integral' a new co-operative being set up in Barcelona, that aims to provide for all human needs cooperatively. They already have a doctor, a dentist, childcare, primary school, buses, grow food and have occupied a number of buildings for housing.
In the UK I am inspired by long running coops such as Brixton Cycles a bike cooperative, and Calverts a printing cooperative.
What advice would you give to someone looking to set up a workers cooperative?
Firstly find the right team of people. That's the most important, nothing will work without that. Make sure you share the same vision, values and passion but have the diverse set of skills needed for your business. Secondly get business and legal advice and support from other cooperatives in your geographical or sector area. One of the principles of cooperatives is that they support other coops, this is really important and you can learn so much from the experience they have. Thirdly, become part of a supportive network of cooperatives, social enterprises or if you're in the UK join AltGen! This will provide the wider network you will need to fall back on and ask for help and inspiration. Finally don't be afraid to go for it, it may seem scary but the other options are pretty bleak. We have to be brave and we have to be bold and its amazing when it works, being your own boss and working as equals with others on something that you love.
What has the reaction to AltGen been like so far?
Thank you. It's been really positive. I haven't spoken to a single person my age that doesn't think it's a good idea. That makes me think that it could actually have an impact on the mainstream and not remain within a small group of people that already believe in it. The challenge now is to get support from larger organisations and bodies to get the funding needed to make the project a success. However AltGen's recent partnership with Cooperatives UK, the national membership body for cooperatives across the UK, is very exciting development for the new year.
What are your ambitions for the next few years? For yourself and for AltGen?
For sure it does, I think this can be nothing but personal. My plans and ambitions for the next few years are to grow AltGen. Right now we are doing our 6 month pilot project: with workshops in 12 universities, one residential course, and 10 start up grants.
The eventual aim is for AltGen to become a European wide network of young people taking control of their work and contributing to solving the social and environmental problems we face through setting up cooperatives. The network, mainly facilitated by an online hub space will be a space to connect, inspire and trade with one another and support our generation to create the more equal and sustainable economy we all need.
Photo Credit (middle): Howard Hall Flickr
You might also like