It is the world's first major automobile company to set a date for going green.
Volvo has announced that all of its car models will be electric or hybrids from 2019.
That means all Volvo cars will have an electric motor.
The Sweden-based company, which is Chinese owned, says it will phase out its vehicles powered only by internal combustion engines.
We are committed to electrification, so from 2019 all new Volvo car models will include an electric motor. #VolvoCarsEVspic.twitter.com/FWGVKyAdgo

— Volvo Cars (@volvocarsglobal) July 5, 2017
Electric and hybrid vehicles – those that use two or more types of power – still only represent a small part of global sales, but they are becoming increasingly popular at the premium end of the market, where Volvo positions itself.
"This announcement marks the end of the solely combustion engine-powered car," said Volvo Cars Chief Executive Hakan Samuelsson.
Volvo is owned by the Zhejiang Geely Holding Group.
The group says five new models set to be launched between 2019 and 2021 would all be fully electric. Three of the models will be made by Volvo.
"These five cars will be supplemented by a range of petrol and diesel plug in hybrid and mild hybrid 48-volt options on all models," said Volvo.
"This means that there will in future be no Volvo cars without an electric motor."
This cartoon felt fanciful when I commissioned it for WSJ</a> in 2010. Today Volvo pledged to go all electric by 2019. <a href="https://t.co/7J7tYthwqF">pic.twitter.com/7J7tYthwqF</a></p>— Ben Wright (_BenWright_) July 5, 2017
Volvo says the electric models will be produced at its plants worldwide, both in Europe and China.
A plant is also being built in the US.
Industry experts say the trend for electric and hybrid cars could be become much more widespread in the auto industry as technology gets better and prices fall.
The International Energy Agency says the number of electric cars has been growing since 2010 and went past the two million-vehicle mark in 2016.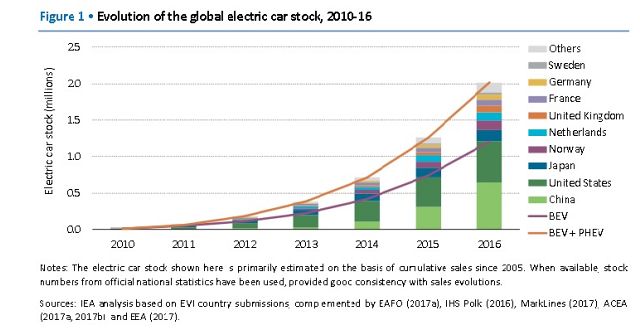 In 2016 China became the largest user of electric cars, overtaking the US.
China now accounts for about a third of the total number of electric vehicles around the world.
So far, the use of the battery electric vehicle (BEV) has been ahead of the plug-in hybrid electric vehicles.
Petrol cars are dead, says Volvo https://t.co/8DtVBMRfuf

— The Independent (@Independent) July 5, 2017
Volvo was bought by Geely from Ford in 2010.
It is seen as a leader in the premium market, alongside Daimler's Mercedes-Benz and BMW.
Volvo says it will build its first fully electric car in China and it will be exported globally.
Volvo said that all of the models it introduces from 2019 will be either hybrids or powered solely by batteries https://t.co/T9NaD0yGSD

— The New York Times (@nytimes) July 5, 2017
You might also like