'Every street in Bakhmut is covered with our blood', says Ukrainian soldier
Comments
By Euronews with AFP and EBU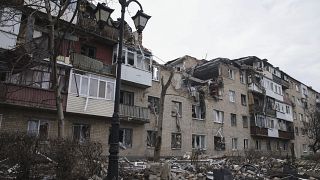 "Every street in Bakhmut is covered with our blood", said Fox, a Ukrainian soldier in the near-destroyed city of Bakhmut, on the frontline of the war between Russia and Ukraine. 
In a basement of a residential building, Fox said he doesn't know how much longer he and his comrades will be able to hold the city.
Ukraine says its troops are under pressure here, where Russian forces are launching heavy assaults after months of fighting.
The former eastern industrial hub has become largely a political objective since it was reduced to rubble.
"Unfortunately, every day (we lose someone)," said Fox. "Not a single day without evacuating the dead, so that we can deliver their bodies home. We spend all our resources to evacuate the dead, who gave their lives, as well as the wounded, to provide them with medical aid."
The Russians have now prioritised surrounding and cutting off Bakhmut rather than directly assaulting it.
"The situation around Bakhmut is extremely tense," the commander of Ukraine's ground forces Oleksandr Syrskyi said on social media.
"Despite taking significant losses, the enemy has dispatched its best-trained Wagner assault units to try to break through the defences of our troops and surround the city," Syrskyi said, referring to the Russian paramilitary group.
Ukrainian President Volodymyr Zelenskyy says Ukraine will continue to fight for the city as long as it can, and has for months urged for weapons deliveries from allies to help.
All of Bakhmut's buildings are in ruins, with smoke rising over the city once known for its sparkling wine production and salt mines.
The governor of the eastern Donetsk region Pavlo Kyrylenko said in mid-February that out of the 70,000 people who lived in the city before the war, less than 5,000 civilians including 140 children remained.
Despite the hardships, Ukraine's troops put on a brave front.
"I am optimistic," explained Ded, another Ukrainian soldier in the city. "Bakhmut, Crimea, all will be ours. Just give us something to shoot with and show us where."
Meanwhile, evidence of the ongoing war is on the streets of Tallinn in Estonia.
A destroyed Russian tank is on display in the city although it's destined for the country's war museum.
The red carnations placed on the vehicle by Russian supporters have been removed after police reported clashes between Ukraine and Kremlin advocates.