Russia says it will take Bakhmut in two months
Comments
By Euronews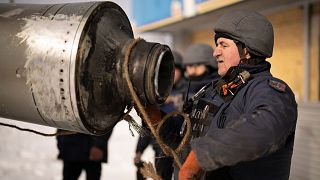 -
Copyright

Vadim Ghirda / AP
The Ukrainian army is defending its position, but Russian fighters say they are feeling optimistic and predict they will take the town in two months.
"I think it will be March or April," says Yevgeny Prigozhin, founder of the Wagner group. 
"To take Bakhmut, you have to cut off all the Ukrainian supply routes," he said in a video posted on the internet.
His comments come at a time when Russia is seeking a victory just days before the first anniversary of the outbreak of the conflict on 24 February and against the backdrop of its recent intensified assault on eastern Ukraine.
War to end in negotiations
Senior US analysts, however, have questioned whether either country would reach its military objectives, arguing that war will most likely end in negotiations.
In an interview with the BBC, Ukraine's President Zelenskyy said he would not give up any Ukrainian land in exchange for peace.
Nevertheless, the two countries have agreed on a prisoner exchange that has brought some 100 Ukrainian and 101 Russian troops home.
But Russia's shelling continues unabated. Cities like Kherson are expecting an offensive soon.
Kyiv says Moscow is using decoy missiles and balloons to try and "exhaust" Ukrainian anti-aircraft defences.
On Thursday night, missiles hit the Kyrovohrad region, in the middle of Ukraine and even Lviv, on the Western side of the country. 
"We are here to make sure Ukraine wins this war," Jens Stoltenberg, head of NATO, promised.
The West is expected to deliver modern tanks, other armoured vehicles and long-range missiles to Ukraine in the coming weeks, all of which could add to the Russian army's problems.