China 'should urge Russia to withdraw': Ukraine sceptical over Beijing peace plan
Comments
By Euronews with agencies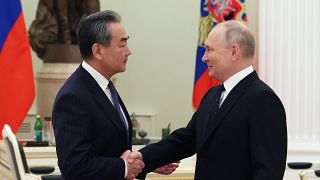 -
Copyright

Anton Novoderezhkin, Sputnik, Kremlin Pool Photo via AP
China has called for a cease-fire and peace talks between Ukraine and Russia, in a vaguely worded proposal released on Friday that analysts said was unlikely to deliver results.
The announcement coincides with the first anniversary of the full-scale Russian invasion.
The 12-point plan mostly reiterates Beijing's existing stand on the war, while continuing to portray China as a neutral party.
It calls for the "sovereignty, independence and territorial integrity of all countries" to be respected, but does not say what will happen to the territory Russia has occupied since invading Ukraine. It also calls for an end to "unilateral" sanctions on Russia, indirectly criticizes NATO expansion, and condemns threats of nuclear force.
Beijing also called on both countries to avoid nuclear escalation. However, it does urge both sides to enter into peace negotiations.
Chinese Foreign Ministry spokesperson Wang Wenbin said China's actions show it is "committed to peace talks", and faulted Beijing's critics for doing too little to encourage negotiations.
China 'should urge Russia to withdraw troops'
Ukraine has largely welcomed the paper but Zhanna Leshchynska, Chargée d'Affairs of Ukraine to China said they're treating it with caution.
"China should do everything in its power to stop the war and restore peace in Ukraine and urge Russia to withdraw its troops. In my opinion, if it is in neutrality, then China should talk to both sides – Russia and Ukraine. Now we see that the Chinese side mostly talks with Russia but not with Ukraine," said Leshchynska.
"We will not agree to anything that keeps Ukrainian territories occupied and puts our people at the aggressor's mercy," Leshchynska added.
In addition to calling for sovereignty to be respected and sanctions against Russia to end, the proposal said "dialogue and negotiation are the only viable solution to the Ukraine crisis". It offered no details on what form talks should take but said "China will continue to play a constructive role in this regard".
The document has been criticised by some US officials and some analysts after seeing the relationship between Russia and China deepen.
State Department spokesman Ned Price had said earlier Thursday that the US would reserve judgment on the proposal but that China's allegiance with Russia meant it was not a neutral mediator. "We would like to see nothing more than a just and durable peace... but we are sceptical that reports of a proposal like this will be a constructive path forward," he said.
Chinese plan 'an attempt at PR'
Shi Yinhong, a professor of international relations at Beijing's Renmin University, said that while neither side is likely to pay much heed to the Chinese proposal, Beijing needed to clarify its stance.
"China feels it necessary to repeat its self-perceived neutrality at this juncture, to save some international inference by not only criticising NATO but also distinguishing itself from Russia's behaviour," Shi said.
The proposal is "an attempt for public relations on the part of China", said Li Mingjiang, a professor and international security expert at Singapore's Nanyang Technological University.
"I'm not convinced that this policy is going to improve their credibility in being an honest broker," Li said.
The proposal comes as US-China relations have hit an historic low over Taiwan, disputes over trade and technology, human rights and China's aggressive actions in the South China Sea.
US National Security Adviser Jake Sullivan said on CNN on Thursday that his first reaction to the proposal was that "it could stop at point one, which is: respect the sovereignty of all nations".
Sullivan also noted China's abstaining in the UN vote and that Wang Yi visited other European nations during his recent visit to the continent, "trying to sell the idea that China's not all-in with Russia".
"I cannot predict the future," he told CNN. "What I can tell you is that the United States is not going to dictate to Ukraine how this war ends."