When will the war in Ukraine end? One year on, we answer your questions about the conflict
Comments
By Kal Berjikian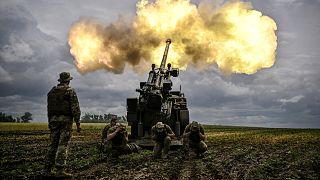 When Russia launched its full-scale invasion of Ukraine on 24 February 2022, the world watched on in shock. The expectation: Russian forces would storm its capital in a matter of days.
Instead, over the past year Ukrainian forces have consistently and successfully pushed back the invading troops.
But those victories have come at a heavy cost: thousands of people have died; more than 8 million people fled to Europe; and tensions between NATO and Moscow have escalated.
One year into the conflict, here are some of your questions about the war answered.
When will the war in Ukraine end?
Over the past year, Russia has, at times, temporarily taken control of large swathes of Ukrainian territory. Ukraine's forces have successfully reclaimed much of it. But this back and forth could mean the war "is here to stay", at least in the immediate future, according to Mathieu Droin, a visiting fellow at the Center for Strategic and International Studies.
"We can see that the balance of power, the military situation, is rather stalled on the ground… Both [countries] are convinced that they can still prevail militarily."
Andrew Cottey, a professor in the Department of Government and Politics at University College Cork, gave Euronews three possible outcomes for the war.
The first - which would be the most optimistic from Kyiv's perspective - is that Ukrainian forces successfully move towards Mariupol on the Black Sea coast, cutting off Russian forces from the southern part of the country. The move "would also put Crimea at risk and then potentially we could see a collapse of Russian forces and effectively Ukraine could win," he said.
Another option would be a military stalemate, continuing into next year.
His final prediction is that there is no conclusion. "A long war scenario […] is what's sometimes described as a kind of frozen conflict where you have some kind of ceasefire or armistice, but the conflict is really unresolved." 
Will Ukraine join NATO?
Before Russia's full-scale invasion of Ukraine, Kyiv was already an active NATO partner, sending a handful of troops to Afghanistan during the alliance's mission in the country.
Since February 2022, their relationship has grown rapidly stronger.
"Clearly the conflict is bringing Ukraine much closer to NATO, because [the alliance] may not be putting its soldiers in Ukraine, but its members are putting all of their tanks, armoured personnel carriers, anti-aircraft systems and artillery there to help it resist," Jamie Shea, a former Deputy Assistant Secretary General of NATO, told Euronews.
Full NATO membership would guarantee Ukraine a much higher degree of protection against Russia - which a partnership alone would never do.
One of the key aspects of NATO is Article 5: an attack on one member state is an attack on all. This means, in the event of an attack on one member state, all other NATO members would help to defend it.
However, NATO also mandates that countries wanting to join cannot have unresolved territorial disputes inside their borders. 
"[Ukraine membership] is highly unlikely as long as the war rages," Droin said.
"That means as long as there are Russian troops on Ukraine's soil, [Ukrainian membership] would force NATO and Russia to directly confront each other in the country."
Despite this, Shea argued, Ukraine joining NATO is "becoming ever more likely, even if it won't happen today."
That is because billions of euros worth of military aid NATO members have given to Ukraine over the past year has transformed its military into a "NATO army in terms of the alliance's standard and its equipment."
"NATO can't keep Ukraine in a kind of permanent waiting room, saying yes in principle to membership, but never setting a date."  
Could the fighting spread to other countries?
Many in the international community feared that the conflict could spread outside of Ukraine's borders.
But as the fighting goes on, that idea is progressively seeming less likely, despite what Droin calls "miscalculations," such as a missile hitting Poland in November.
Because, he added, an escalation into Europe is not in anyone's best interest.
"It is fair to say that nobody wants that. For the moment, it is not in the interests of Russia. It's not in the interest of NATO.
"So there are agreed lines that the conflicts should stay within the borders of Ukraine."
Instead, he argued, there could be more "hybrid strikes" or "hybrid cyber-attacks" outside of Ukraine.
Earlier this month, Moldova's President Maia Sandu reported that the Kremlin was plotting a potential coup within its borders. An accusation that Moscow has denied.
But the war could spread, according to Cottey, if Russia uses nuclear weapons in Ukraine.
"If Russia were to use nuclear weapons, the West might then become directly involved in the war in Ukraine in terms of putting forces in [the country].
"And obviously that's a very worrying scenario. But many analysts think that it's reasonably unlikely.
"It wouldn't necessarily be militarily useful for Russia, and it would have a whole range of very negative consequences for Moscow."