Ukraine war: Zelenskyy pledges push for victory on anniversary of Russian invasion
Comments
By Euronews with AP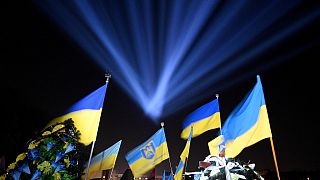 -
Copyright

YURIY DYACHYSHYN / AFP
Volodymyr Zelenskyy has pledged to push for victory in 2023 as he and other Ukrainians on Friday marked the sombre first anniversary of the Russian invasion that changed their lives.
As dawn broke on a day of commemorations and defiance, Ukraine's president tweeted that Ukrainians had proven themselves to be "invincible" in what he called "a year of pain, sorrow, faith and the unity".
Zelenskyy said the Russian assault on February 24, 2022 had been a moment when "millions of us made a choice." Ukrainians chose not the white flag of surrender "but the blue and yellow one. Not fleeing, but facing. Resisting & fighting," his tweet said.
"We know that 2023 will be the year of our victory!" he added.
Earlier, he hailed an overwhelming vote by UN General Assembly calling for the immediate withdrawal of Russian troops from Ukraine.
Ukrainians planned memorials, candle vigils and other remembrances for their tens of thousands of dead — a toll growing all the time as fighting rages in eastern Ukraine in particular.
There were concerns that Russia might unleash another barrage of missiles against Ukraine to pile yet more sadness on the day. But air raid alarms did not sound overnight in the capital, Kyiv, and the early morning started quietly.
Still, the government recommended that schools move classes online and office employees were asked to work from home.
Tributes to Ukraine's resilience flowed from overseas. The Eiffel Tower in Paris was among monuments illuminated in Ukraine's colours — yellow and blue.
Zelenskyy hails UN vote
On Thursday evening the United Nations voted overwhelmingly to demand Russia 'immediately' and unconditionally withdraw its troops from Ukraine.
At the General Assembly, 141 members voted in favour of the resolution, reaffirming support for Ukraine's sovereignty and territorial integrity.
However seven opposed it and 32 abstained including China and India.
Zelenskyy welcomed the UN vote, describing it on Twitter as "a powerful signal of unflagging global support for Ukraine".
"We are satisfied with the outcome, and the message is clear, it doesn't matter what Russia tries and how it attempts to undermine international order and the coalition in support of Ukraine's territorial integrity, it fails one time after another," said Ukrainian Foreign Minister Dmytro Kuleba.
European Union foreign policy chief Josep Borrell told reporters that the aggressor and the victim can't be put on equal terms. 
However, Hungary has prevented the 27 member states from agreeing on a new round of sanctions against Russia.
But ministers will meet again to try to reach an agreement in the coming days.
Meanwhile, the US has announced a new package of sanctions, which it has said will be sweeping.
In addition, the White House has announced that it will approve a new aid package for Kyiv.