Ukraine must wait longer for a decision on Leopard 2 tanks after a NATO meeting in Ramstein
Comments
By Euronews with AP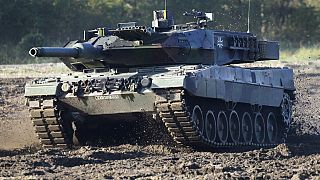 -
Copyright

Michael Sohn/AP2011
Ukraine will have to wait longer to find out if it will get advanced German-made battle tanks.
A dispute over sending the tanks from Western allies to help Ukraine against Russia's invasion has seen Germany accused of dragging its heels over by using a veto to prevent German-made Leopard 2 tanks being sent to Ukraine by its allies.
Failure to reach agreement on what has become an urgent request from Ukrainian leaders largely overshadowed commitments from a number of nations, meeting at NATO's Ramstein air base in Germany.
While U.S. and NATO leaders denied any dissension in the ranks and praised Germany for its widespread weapons and training contributions to Ukraine, a smaller group of leaders met privately with the Germans to try to find common ground. They were unable to forge a consensus on sending the German-made Leopard tanks.
German-made Leopard 2 tanks
Polish Defense Minister Mariusz Blaszczak said on Friday that 15 countries that have the Leopards discussed the issue but no decisions were made. He called the meeting a "good discussion among allies" and said the matter would be discussed again at future talks.
Germany would need to agree for the tanks to be given to Ukraine, which is not a member of NATO. Despite pleas from Ukrainian officials, Germany has so far resisted mounting pressure to quickly supply Leopard 2 tanks to Kyiv, or at least clear the way for other countries, such as Poland, to deliver them from their own stocks.
Asked at the close of the Friday meeting whether Germany was "doing enough," U.S. Defence Secretary Lloyd Austin responded, "Yes, but we can all do more."
"They are a reliable ally and they've been that way for for a very, very long time," he said. "And I truly believe that they'll continue to be a reliable ally going forward."