'Tyranny is outpacing democracy': Volodymyr Zelenskyy tells leaders at Davos to act faster
Comments
By Euronews with AP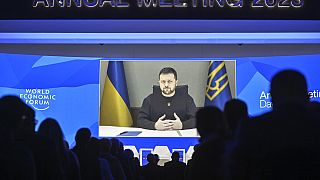 -
Copyright

Gian Ehrenzeller/ KEYSTONE / GIAN EHRENZELLER
Ukrainian President Volodymyr Zelenskyy on Wednesday said Western supplies of weapons must outpace Russia's attacks. In a video address to the World Economic Forum at Davos, Switzerland, he urged the world to move faster in its decision-making because "tragedies are outpacing life; the tyranny is outpacing democracy," he said.
Zelenskyy also stood and asked for a moment of silence for victims of a helicopter crash in Ukraine on Wednesday morning, which included his interior minister. While the cause is unknown, he said that "every individual, every death is a result of war."
He said the world needed to react more quickly to global security, climate change and hunger. He added, when Russia started the war, the world needed days to react with the first sanctions.
"The time the free world uses to think is used by the terrorist state to kill," he said.
"The supplying of Ukraine with air defense systems must outpace Russia's vast missile attacks. The supplies of Western tanks must out outpace another invasion of Russian tanks," added Zelenskyy.
When asked about engaging with Russia, Zelenskyy said "they will have to recognise their own mistakes".
"They will have to recognise Ukrainian statutes and they will have to really respect our territorial integrity."
For more watch Euronews' report in the video above.