Rescuers abandon hope of finding survivors in the Dnipro apartments hit by a Russian missile
Comments
By Euronews with AP, AFP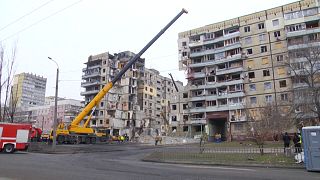 -
Rescue workers in Ukraine have called off the search for any possible survivors of Russia's missile attack on a block of flats in Dnipro.
They had been painstakingly picking through the rubble of the residential building since the strike on Saturday.
The death toll stands at 45 with 19 people still missing. At the rescue centre, Mykolo was grieving for his missing 11-month-old grandson and the boy's father. Mykolo's daughter Kateryna was found injured in the rubble and taken to hospital.
Mykolo said: "To see the apartment that is no longer there, where my children were, my grandson, that perished in a single moment. Be damned that Putin and all of his scum entourage."
One woman who survived the missile strike had returned to the site and was using a torch to try and find her pet cat. Nadiia Yaroshenko, 38, said she hoped her pet Beliash was still in the flat on the second floor, but she was unable to reach her home because the staircase had been destroyed.
She said: "One eye is yellow, the other is blue. He is kind of a patriotic cat. And he did not go to the rescuers. Yesterday we came, it was a restricted area here, they didn't let us in."
The Ukrainian army has said the apartments were hit by a Russian X-22 missile.
The Kremlin has denied targeting the building.
However, in a rare show of solidarity with the victims of the war, a makeshift memorial appeared in central Moscow. Flowers and toys were laid at the foot of a monument to prominent Ukrainian writer Lesya Ukrainka along with a photo of the destroyed building and a sign reading "Dnipro. 14.01.2023."
According to photos and a video circulated on Russian social networks, people started laying tributes on Monday.
EU finance and economy ministers met in Brussels on Tuesday to discuss the economic and financial impact of Russia's war on Ukraine.
MEPs are also set to debate the establishment of a special tribunal to prosecute Russia for war crimes with a vote due to take place on Thursday.