Germany to give armoured fighting vehicles and Patriot missile system to Ukraine
Comments
By Euronews with AP, Reuters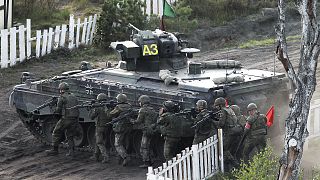 Copyright

AP Photo/Michael Sohn

-
Germany and the US will send Marder armoured fighting vehicles to Ukraine in a new weapons package for the Kyiv government. 
The news came after a conversation between Germany's Chancellor Olaf Scholz and US President Joe Biden.
The US weapons package, to be announced on Friday, is expected to include about 50 Bradley Fighting Vehicles as part of security assistance totalling about $2.8 billion (€2.66 billion), US officials said.
Ukraine has scored some battlefield successes since Russian forces invaded last February but has asked allies for heavier weapons to defend itself.
Germany's decision to supply the Marders comes after France said it would soon hold talks with Ukraine to arrange for the delivery of its own AMX-10 RC light tanks. 
France's presidency said that would be the first time this type of Western-made wheeled tank destroyer would be given to the Ukrainian military.
The German government did not specify how many Marder APCs will be supplied or when. It said that Germany would train Ukrainian forces on them.
The statement noted that the US last month announced that it would give a Patriot air defence missile battery to Ukraine and said that "Germany will join the United States in supplying an additional Patriot air defense battery to Ukraine." It did not specify a timeframe.
Germany has already delivered significant military aid to Ukraine, including Gepard self-propelled anti-aircraft guns and the first of four IRIS-T surface-to-air missile systems.
Still, Scholz has faced pressure at home to offer more, including Marder vehicles.
The German leader also has faced calls from Ukraine and some lawmakers at home to deliver Leopard 2 tanks to Ukraine, but so far has said that it wouldn't go it alone with such a move and that no other country has supplied similar Western equipment.