Sinn Fein seals historic Northern Ireland election win
Comments
By Euronews with AP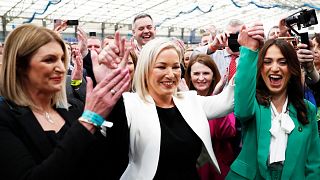 Copyright

Peter Morrison/AP Photo

-
The Irish nationalist party Sinn Fein has won the largest number of seats in the Northern Ireland Assembly for the first time.
With almost all votes counted, Sinn Fein has secured 27 of the assembly's 90 seats. The Democratic Unionist Party has 24. The historic win means Sinn Fein is entitled to the post of first minister in Belfast for the first time since Northern Ireland was founded as a Protestant-majority state in 1921.
Sinn Fein seeks a united Ireland and has long been linked to the Irish Republican Army. But the party kept unification out of the spotlight this year during a campaign that was dominated by more immediate concerns, namely the skyrocketing cost of living.
"Today represents a very significant moment of change," Sinn Fein vice-president, Michelle O'Neill, said at a vote count in the town of Magherafelt.
"It's a defining moment for our politics and for our people."
The leader of the Democratic Unionist Party (DUP), Sir Jeffrey Donaldson, said the predicted results showed there was a "big lesson" to be learnt for unionism.
"I think as unionist leaders we need to sit down and consider the outcome of this election and next time round let's be in a position where we're able to win seats because we're more united," he said.
While a Sinn Fein win would be a historic shift that shows diminishing support for unionist parties, it's far from clear what happens next.
Under a mandatory power-sharing system created by the 1998 peace agreement that ended decades of Catholic-Protestant conflict, the jobs of first minister and deputy first minister are split between the biggest unionist party and the largest nationalist one.
Both posts must be filled for a government to function, but the DUP has suggested it might not serve under a Sinn Fein first minister.
The DUP has also said it will refuse to join a new government unless there are major changes to post-Brexit border arrangements, known as the Northern Ireland Protocol.
The full results of Thursday's local election, which uses a system of proportional representation, were expected later in the weekend.
Northern Ireland's new legislators will meet next week to try to form an executive body.
If none can be formed within six months, the administration will collapse, triggering a new election and more uncertainty.