Civilian deaths and anti-war protests: Here's how day 11 of Russia's invasion unfolded
Comments
By Euronews with AP, AFP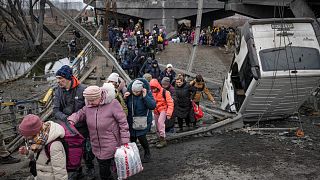 Copyright

AP Photo/Vadim Ghirda

-
This was Sunday's live blog. For the latest updates on Monday click here.
Civilians, including a family, were killed in shelling in a city outside of Kyiv and thousands of Russians were arrested for protesting the invasion on Sunday, as the war in Ukraine continued.
Meanwhile, a second attempt to evacuate civilians from besieged Mariupol failed due to continued Russian shelling, Ukrainian officials said.
Here's what happened on the eleventh day of Russia's invasion.
03.06.2022
09:06
The key points to know
A new attempt to evacuate civilians in besieged Mariupol failed on Sunday with Ukraine accusing Russia of once more shelling the area.
Civilians were killed in shelling outside of Kyiv, officials said.
Thousands of Russians were arrested for protesting the invasion of Ukraine.
Ukraine's President Volodymyr Zelenskyy issued a new appeal for a no-fly zone and warplanes over Ukraine after a Russian missile strike on Vinnytsia.
The IAEA said Ukraine is having issues communicating with staff at  Zaporizhzhya, who reported being ordered to run things past Russian authorities first. 
The next round of talks between Russia and Ukraine will take place on Monday. 
The UN Human Rights Office said that 364 Ukrainian civilians have been killed since the beginning of the invasion.
More than 1.5 million people have fled Ukraine since Russia's invasion began 10 days ago. 
More tech companies, including TikTok and Netflix, suspended their services in Russia.
03.06.2022
22:40
Thousands of Russians arrested for protesting war in Ukraine
At least 4,640 people were arrested on Sunday in 65 cities, according to OVD-Info.
It brings the number of demonstrators arrested since the beginning of Russia's invasion to 13,000.
Read more here.
03.06.2022
22:28
Netflix suspends its service in Russia
Netflix became the latest company on Sunday to suspend its service in Russia.
A statement from the company cited "circumstances on the ground" for its decision to suspend its Russian service but didn't offer any additional details.
The announcement comes after TikTok said users on its platform in Russia have been blocked from posting and viewing videos shared from elsewhere in the world.
03.06.2022
22:27
Anti-war demonstrations take place throughout Europe
Demonstrators marched throughout European cities on Sunday to protest Russia's invasion of Ukraine.

From Spain to Germany, demonstrators took to the streets in support of Ukrainians.

Read the full story here.
03.06.2022
22:24
Civilians killed in shelling outside of Kyiv
Eight civilians were killed by Russian shelling in the town of Irpin, on the northwest outskirts of Kyiv, according to Mayor Oleksander Markyshin.

The dead included a family.
Video footage showed a shell slamming into a city street, not far from a bridge used by people fleeing the fighting. A group of fighters could be seen trying to help the family.
03.06.2022
22:10
Gun sales rise in Lithuania amid Ukraine invasion
Gun buyers have been flocking to Lithuania's stores since the start of the war in Ukraine, with sales increasing up to eight times and applications for gun licences doubling.
Shooting ranges have also reported a large increase in clients seeking to refresh their skills or even those wishing to learn to shoot without an intention to buy a gun.

Read more here.
03.06.2022
21:47
More than a million Ukrainian refugees flee to Poland, border guards say
More than one million Ukrainians have fled to Poland since the Russian invasion began, Polish border guards said.

"It's a million human tragedies, a million people driven from their homes by war," they said in a statement.
03.06.2022
21:20
Lviv residents seek comfort in Sunday service
Some residents of Lviv sought consolation at a Sunday Mass at a Catholic church in the city in western Ukraine, AP reports.
The 17th-century church was silent during the ceremony, reflecting emotion and concern amid the Russian invasion of Ukraine.
Some people in the church held small papers with the names of their loved ones written on them. Others just stood in silence, their heads bowed during prayer.
03.06.2022
21:11
France sends 'medical products', including iodine, to Ukraine
France has sent Ukraine "various medical products", including iodine, to protect a nuclear accident during Russia's invasion, said foreign affairs minister Jean-Yves Le Drian.

"Yes, we have sent different medical products," Le Drian told TV broadcaster France 2, in response to a question about the possible shipment of iodine to Ukraine.

The confirmation came after the International Atomic Energy Agency (IAEA) expressed concern that Ukraine reported communication problems with staff at a nuclear energy plant.
03.06.2022
20:37
TikTok suspends live-streaming and creation of new video content in Russia
The social media app TikTok said they would suspend live-streaming and the creation of new video content on the app in light of Russia's new law banning the publication of information that strays from the government narrative on the war in Ukraine.