Ukraine war: Putin puts nuclear arsenal 'on special duty' as Zelenskyy agrees to talks
Comments
By Euronews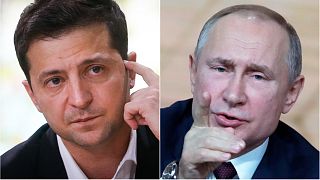 Russia placed its nuclear arsenal -- but also other heavy weapons, such as Kinzhal and Zircon hypersonic missiles -- on "special" alert, the highest form of combat readiness for these units.
President Vladimir Putin ordered the ministry of defence to issue the alert on Sunday, citing sanctions and "aggressive statements" from NATO member states.
European Commission President Ursula von der Leyen announced that the EU will buy and deliver weapons and equipment to Ukraine in what she said was "a watershed moment" on Sunday evening.
More sanctions on top of the ones announced by the bloc on Saturday include "a prohibition on all Russian-owned, Russian registered or Russian-controlled aircraft" as well as an EU-wide ban of "the Kremlin's media machine", including RT and Sputnik.
Additional sanctions were doled out against the Belarusian regime of Alexander Lukashenko, who von der Leyen said was "complicit with the vicious attack".
Meanwhile, the office of the Ukrainian President Volodymyr Zelenskyy said in a statement that he agreed to send in a team of negotiators to meet with their Russian counterparts near the border with Belarus after assurances from Minsk.
More than 200 civilians were reported dead in the war in Ukraine, a defence official said, as heavy fighting was reported in the country's second-largest city Kharkiv.
A regional governor later claimed that the city was back under Ukrainian control.
02.27.2022
07:53
Key points from the Ukraine war on 27 February
The Kremlin has put its nuclear arsenal on alert, with President Vladimir Putin citing sanctions as the reason behind the decision.

Ukrainian President Volodymyr Zelenskyy agreed to have a Ukrainian delegation hold talks with their Russian counterparts at the country's Belarus border.

In EU's first, the bloc decided to purchase and deliver weapons and military equipment to Ukraine, while also introducing further sanctions banning the likes of RT and Sputnik in Europe. 

A regional official said Ukraine had taken back control of Kharkiv after heavy fighting broke out with Russian troops in Ukraine's second-largest city.

The number of refugees fleeing Ukraine since Thursday hits 368,000, says UNHCR.

Air raid sirens are reported to be heard in Kyiv, but the capital remains under Ukrainian control.

More than 200 civilian deaths were reported by Ukrainian officials.

EU to close its airspace to Russian aircraft, says Ursula von der Leyen.

Russian banks will be removed from the SWIFT international payments system, says EU chief Ursula von der Leyen.
02.27.2022
22:51
Aeroflot suspends all flights to Europe 'until further notice'
Russian airline Aeroflot has announced it will suspend all flights to Europe from Monday after the EU closed its entire airspace to all Russian aircraft.
"Due to the airspace restrictions put in place by the European authorities, Aeroflot is suspending its flights to all European destinations from 28 February 2022 until further notice," the company said in a statement released on Sunday evening.
The European Union announced on Sunday that it would close its airspace to all Russian aircraft in retaliation for Russia's invasion of Ukraine -- a measure also taken by several non-EU countries on the continent and Canada.
With many countries having already closed or announced the closure of their airspace, Russian air traffic is facing a vast no-fly zone, forcing flights to take huge detours.
In retaliation, Russia has begun banning aircraft linked to European countries that have announced these decisions in recent days, such as the UK, Latvia, Lithuania, Estonia, Slovenia, Bulgaria, Poland and the Czech Republic.
02.27.2022
22:33
Protests against Russian invasion continue across Europe
Thousands took to the streets of Europe on Sunday in to protest Russia's invasion of Ukraine.
The largest protests took place in Berlin, with an estimated crowd of 100,000 people turning up on Sunday to express their opposition to the war and demand an end to the violence.
Protesters lined the streets in the German capital holding up banners and waving Ukrainian flags as they called on Russia to stop its invasion of its neighbour.
In Belarus, the protests came despite the authoritarian Belarusian government having sided with Moscow.
The anti-war rallies spanned at least 12 Belarusian cities, and human rights advocates reported that more than 170 people have been arrested.
In the capital Minsk, demonstrators marched in different parts of the city carrying Ukrainian flags. A large pile of flowers kept growing at the building of Ukraine's Embassy.
In France, hundreds of people protested in Paris and Nice against the invasion, with Ukrainian flags and those of other eastern European nations hoisted high. Russians opposed to the war joined the crowd in Paris.
It was the second day of protests directed at Russian President Vladimir Putin around France, among a string of weekend rallies across Europe.
On the famed Promenade des Anglais in Nice -- a hub for Ukrainians -- hundreds of people chanted slogans against the war Putin is waging and urged NATO nations to protect them from Russian bombs.
Protesters carried Ukrainian, Moldovan, Georgian and Chechen flags and banners denouncing Putin.
Read more here: ⬇️
euronews
Demonstrators have taken to the streets in cities all across Europe to protest Russia's invasion of Ukraine, and spread an anti-war message. #EuropeNews
02.27.2022
21:33
Ukraine files case against Russia at The Hague's ICJ
Ukraine launched a case against Russia at the United Nations' highest court on Sunday, accusing Moscow of planning genocide and asking the court to intervene to halt the invasion and order Russia to pay reparations.
The case also asks the International Court of Justice, based in The Hague, to indicate "provisional measures" ordering Moscow to "immediately suspend the military operations" launched on Thursday.
The case says Russia launched its invasion of Ukraine based on false claims of acts of genocide in the Luhansk and Donetsk regions of eastern Ukraine and now is planning genocidal acts in Ukraine.
Ukraine "emphatically denies that genocide happened in the eastern regions" and says it filed the case "to establish that Russia has no lawful basis to take action in and against Ukraine for the purpose of preventing and punishing any purported genocide," the court said in a statement.
The court will schedule a hearing soon to hear the provisional measures request.
02.27.2022
21:28
Poland protests FIFA's decision to let Russia play on neutral ground
Poland said on Sunday that FIFA's plan to allow Russia to play international home matches on neutral ground and under a neutral banner was out of the question and reiterated that it would not play Russia in the World Cup play-off.
"We are not interested in participating in this match of appearances [...] The Polish national team will NOT PLAY Russia, no matter what the name of the team is," Cezary Kulesza, president of the Polish FA, immediately reacted on Twitter. Poland was due to play Russia in Moscow on 24 March in a World Cup play-off.
02.27.2022
20:42
Access to Kyiv blocked but no plans made to evacuate civilians yet, mayor says
There were no plans to evacuate civilians if Russian troops managed to take Kyiv, Mayor Vitali Klitschko said.
Some protections have already been set in place, however. The city's famously deep subway system turned its stations into bomb shelters, and the mayor introduced a weekend-long curfew that ends at 8 am on Monday.
Klitschko said that nine civilians in Kyiv had been killed so far, including one child.
02.27.2022
20:22
Russian troops suffered 'some' casualties, Moscow confirms
Some Russian soldiers were killed, and some were wounded in Ukraine, the Russian military said on Sunday -- admitting for the first time that it had suffered casualties since the beginning of the invasion four days ago.
Russian Defense Ministry spokesman Major General Igor Konashenkov said that "there are dead and wounded among our comrades," without offering any numbers, but adding that Russia's losses were "many times" fewer than those of Ukraine's forces.
It was the first time Russian military officials mentioned casualties on their side.
Ukraine has claimed that its forces killed 3,500 Russian troops.
Konashenkov also said that since the start of the attack Thursday, the Russian military has hit 1,067 Ukrainian military facilities, including 27 command posts and communication centres, 38 air defence missile systems, and 56 radar stations.
Konashenkov's claims and Ukraine's allegations that its forces killed thousands of Russian troops can not be independently verified.
02.27.2022
20:05
Ukrainian and Russian delegations to meet near Belarusian border
Negotiators from Kyiv and Moscow are poised to meet for talks near Ukraine's border with Belarus, authorities confirmed on Sunday.
Ukrainian president's Constitutional Court representative Fedor Venislavsky told the country's parliamentary TV channel Rada that the negotiations are set to begin on Sunday night after the Kyiv delegation changed its route "due to security reasons".
"To ensure the maximum safety of our delegation, they have taken a route that avoids any threat to their lives and that keeps their location unknown," Venislavsky said.
The office of Ukrainian President Volodymyr Zelenskyy said earlier that a delegation will be sent to meet with Russian diplomats on the Belarusian border as Moscow's forces draw nearer to Kyiv.
euronews
A message from the office of the Ukrainian president said that delegates would be sent to meet the Russian diplomats at the Belarusian border.
02.27.2022
19:44
Ukraine is one of us and we want them in EU, Ursula von der Leyen tells Euronews 
Ukraine is "one of us and we want them in the European Union", Ursula von der Leyen has told Euronews.
The interview came after Brussels announced it was sending weapons to Ukraine, banning Russian-backed media in the EU and prohibiting Russian aircraft from the bloc.
But despite backing Ukraine for EU membership, she gave no indication it would be the rapid accession demanded by President Volodymyr Zelenskyy on Saturday.
She told Euronews: "We have a process with Ukraine that is, for example, integrating the Ukrainian market into the single market.
"We have very close cooperation on the energy grid, for example." 
"So many topics where we work very closely together and indeed over time, they belong to us. They are one of us and we want them in."
Von der Leyen also said trust in Vladimir Putin is "completely broken and eroded".
Discussing the possibility of peace talks between Ukraine and Russia, she said: "Of course, it is important that the Ukrainian side agrees to the peace talks and that conditions are fine for the Ukrainian side."
"In general, it is always better to have peace talks than to have a fight. But the trust in President Putin is completely broken and eroded."
02.27.2022
19:36
 

 

center no-repeat #999999;cursor:pointer;background-size: 9px 10px;top:-8px; border-radius: 2px;">↵
Ukrainian defence minister: 'Intimidating Ukrainians is pointless'
In a message on social media on Sunday, Defence Minister Oleksiy Reznikov reassured Ukrainians that the capital Kyiv will not surrender, despite an ongoing offensive against the city.
Publishing a photo with President Volodymyr Zelenskyy, Reznikov said that "intimidating Ukrainians is pointless" and "breaking our defenders is impossible" after 85 hours of fighting across the country.
"Forcing us to surrender our capital - even more so. Extremely difficult hours. But they will pass," he stated.