Ukraine war: Russian army continues Kyiv assault as Germany sends weapons
Comments
By Euronews with AP, AFP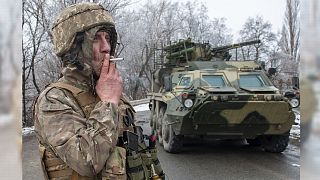 Copyright

AP Photo/Andrew Marienko

-
The Ukrainian people deserve EU membership, President Volodymyr Zelenskyy said in a defiant and emotional address on Saturday, as at least 120,000 citizens of the country undergoing a Russian invasion are reported to have sought refuge in neighbouring countries.
UNHCR reported that the number might go up to as high as 4 million people, as most Ukrainians trying to escape war are now heading to Poland, Moldova, Hungary, Romania and Slovakia.
On Saturday afternoon, German Chancellor Olaf Scholz confirmed a shipment of 1,000 anti-tank weapons and 500 Stinger surface-to-air missiles "as soon as possible."
"The Russian invasion marks a new era. It is our duty to support the Ukrainian forces in their defence against the invasion of Putin's army," Scholz stated.
Earlier on Saturday, Zelenskyy issued a defiant message to his people in a separate address.
In a video recorded on the street in downtown Kyiv, Zelenskyy said that he hasn't left the city and dispelled claims that Ukraine's military would lay down its weapons.
"We will protect the country," he said. "Our weapon is our truth, and our truth is that it's our land, our country, our children. And we will defend all of that."
Meanwhile one of Zelenskyy's advisers said that fighting is raging in the capital and in the south of Ukraine, but that the Ukrainian military is successfully fending off Russian assaults.
Intense fighting overnight appeared to stem some of the Russian advance towards the capital, creating frustration amongst the Russian military and political leadership, Western intelligence sources claim.
Explosions and gunfire were heard throughout the night around Kyiv, with reports of hundreds of casualties in the fighting. The shelling sliced through at least one Kyiv apartment building and pummelled bridges and schools.
Reports came in from news agencies, citing Ukrainian military sources, that Kalibr missiles have been fired towards Ukraine from Russian vessels in the Black Sea.
02.26.2022
07:25
The key points to know
Several Ukrainian cities, including Kyiv, have seen heavy fighting, forcing thousands of civilians to take shelter in basements and the city's metro system.
Ukraine says 198 of its civilians have been killed and more than 1,000 injured since Russia's invasion began.
Nearly 150,000 Ukrainians have fled the country, with at least 100,000 more internally displaced. 
President Volodymyr Zelenskyy calls for Ukraine to be granted rapid EU membership.
Some Russian banks to be cut off from SWIFT international payments system, says EU chief
Thousands across Europe protest on Saturday against Russia's invasion of Ukraine
Germany to send 1,000 anti-tank weapons and 500 surface-to-air missiles to Ukraine
The Ukrainian military has claimed to have pushed back Russian forces at several points, including the main thoroughfare of Kyiv's Victory Avenue.
The Russian military claims to have captured a key airport after seizing control of the Chernobyl nuclear plant and destroying dozens of Ukrainian military facilities.
Neither countries' latest military claims have been independently verified.
Poland and Sweden refuse to play World Cup qualifying matches against Russia
02.26.2022
23:35
Western allies commit to remove some Moscow banks from SWIFT, block Russian Central Bank assets abroad
The leaders of several Western countries have agreed on a new package of sanctions against Russia for its continued invasion of Ukraine, European Commission President Ursula von der Leyen announced on Saturday night.
The package, thought to be the most severe so far, was co-signed by the leaders of France, Germany, Italy, the United Kingdom, Canada, the United States, and the EU Commission.
The package, in its several points, vows to remove "selected Russian banks" from SWIFT, ensuring that the banks are "disconnected from the international financial system and harm their ability to operate globally."
The decision also includes imposing "restrictive measures" to prevent the Russian Central Bank from deploying its international reserves, the joint statement said.
Other measures involve the abolition of the so-called golden passports that allowed wealthy Russians to gain access to the financial systems of these countries and a joint task force to ensure the implementation of the sanctions.
"We stand with the Ukrainian people in this dark hour. Even beyond the measures we are announcing today, we are prepared to take further measures to hold Russia to account for its attack on Ukraine," the statement concluded.
02.26.2022
23:03
Two Danish journalists hurt by gunfire in eastern Ukraine
Danish newspaper Ekstra Bladet says two freelancers working for the paper were injured when the car they were travelling in was hit by gunfire near the village of Ohtyrka in eastern Ukraine.
The reporter and photographer were taken to a local hospital, Ekstra Bladet said, adding their injuries were not life-threatening. The paper was working with a security firm to have the two journalists evacuated.
02.26.2022
22:49
Air raid sirens sound off in Kyiv
Sirens signalling for possible air raids were repeatedly heard in the Ukrainian capital on Saturday night, while the General Staff warned there might be "heavy shelling" during the night, local media outlets reported.
In the meantime, skirmishes on the outskirts of the Ukrainian capital are still ongoing, while Western intelligence reports claim that the Russian army, including columns of armoured vehicles, came as close as 30 kilometres from the city.
02.26.2022
22:43
Protests in Russia continue despite crackdown
More and more Russians spoke out against the invasion of Ukraine on Saturday, even as their government's official rhetoric grew increasingly harsher.
Street protests, albeit small, resumed in the Russian capital of Moscow, St. Petersburg and other Russian cities for the third day in a row, with people taking to the streets despite mass detentions on Thursday and Friday.
According to OVD-Info, a rights group that tracks political arrests, at least 460 people in 34 cities were detained over anti-war protests on Saturday, including over 200 in Moscow.
Open letters condemning Russia's invasion of Ukraine kept pouring in, too. More than 6,000 medical workers put their names under one on Saturday. Over 3,400 architects and engineers endorsed another while 500 teachers signed the third one.
Similar letters by journalists, municipal council members, cultural figures and other professional groups have been making the rounds since Thursday.
A prominent contemporary art museum in Moscow called Garage announced Saturday it was halting its work on exhibitions and postponing them "until the human and political tragedy that is unfolding in Ukraine has ceased".
02.26.2022
22:37
Belarusian president spoke to Macron on the 'country's position and role in the war'
French President Emmanuel Macron held a telephone conversation with his Belarusian counterpart Alexander Lukashenka on Saturday, whose country served as a launchpad for Russia's invasion of Ukraine, Minsk reported.

During the meeting, Lukashenka and Macron "discussed the position and role of Belarus" in the war in Ukraine, the Belarusian presidency said in a statement.

Lukashenka also said his country was ready to host "peace talks [...] anytime and anywhere in Belarus".
The office of the French president confirmed the two spoke, stating that Macron asked the Belarusian president "to withdraw Russian troops from his soil".

Paris on Thursday condemned Russia's use of the territory of its neighbour and Belarusian ally to carry out its invasion of Ukraine, and the European Union called on Belarus "not to take part" in the offensive.

According to Minsk, no Belarusian military personnel are participating at the moment.

Lukashenka, who has ruled Belarus with an iron fist for almost three decades, has grown considerably closer to Russian President Vladimir Putin in recent months.

According to the Belarusian presidency, Lukashenka described the possibility of deploying nuclear weapons in Belarus as "false" during his conversation with Macron.

However, in mid-February, he had said that his country was ready to host "not only nuclear weapons, but also supernuclear weapons" in case of a "threat".
02.26.2022
22:07
The Kremlin: Russia 'expanding its offensive'
Russia announced on Saturday that it was expanding its offensive against Ukraine despite a growing international outcry, even tougher sanctions and the announcement of arms deliveries to Kyiv, notably by Germany. 
But the Kremlin has already said it does not care about the sanctions, and has only stepped up its invasion. "All units have been ordered to expand the offensive in all directions," the Russian defence ministry said.

On the third day of the invasion launched by Russian President Vladimir Putin, fighting continued to take place in many Ukrainian cities in addition to the capital.
"The night will again be difficult. The [Russian] soldiers are still trying to enter Kyiv," the mayor of the Ukrainian capital, former world boxing champion Vitaly Klitschko, wrote on his Telegram account on Saturday evening.

Klitschko has instituted a curfew in Kyiv from 5 pm local time on Saturday until 8 am on Monday.
02.26.2022
21:57
EU foreign ministers to convene on Sunday, Borrell says
The European Union's top diplomat said he's calling an urgent meeting of the bloc's foreign ministers on Sunday to weigh yet more measures against Russia as it wages its military campaign in Ukraine.
EU foreign policy chief Josep Borrell tweeted on Saturday that he was "convening a virtual meeting of EU foreign ministers tomorrow at 18.00 to adopt further measures in support of Ukraine, against aggression by Russia."
Borrell said he will propose to the ministers that they endorse "a package of emergency assistance for the Ukrainian armed forces, to support them in their heroic fight".
It will be the third time the ministers have met in a week. Previously, they have endorsed two packages of sanctions: one raft targeting Russians involved in the recognition of two breakaway regions in eastern Ukraine, and another hitting Russia's economy, while also freezing the assets of President Vladimir Putin and Minister of Foreign Affairs Sergey Lavrov.
02.26.2022
21:49
Pope expresses 'deep sorrow' for the war in a call with Zelenskyy
Pope Francis spoke by phone with President Volodymyr Zelenskyy and expressed his "deep sorrow for the tragic events" in Ukraine, the Ukrainian embassy to the Holy See said.

The Ukrainian president posted a message on Twitter in which he "thanked the Pope for praying for peace in Ukraine and a ceasefire."
02.26.2022
21:44
French government to send military aid to Ukraine, introduce further sanctions against Russia
The French government will strengthen economic and financial sanctions against Russia, including access to the SWIFT platform, the Elysée Palace announced on Saturday evening.
The government has also decided to deliver more military defence equipment to Ukraine in its fight against the invading Russian army and take measures to combat "propaganda" from Russia.
During President Emmanuel Macron's defence council meeting at the Elysée Palace, "it was decided to deliver additional defence equipment to the Ukrainian authorities as well as fuel support," the presidency said, without giving any specifics at this stage.
Macron also "noted a strengthening of economic and financial sanctions in coordination with the Europeans and the US", as well as national measures to freeze the financial assets of Russian elites, and finally "new measures" to be taken "with European partners concerning SWIFT", the statement said.
Additionally, the French government will institute measures "to combat propaganda from Russian influencers and media on European soil".