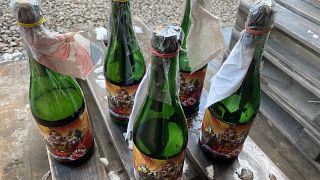 -
Copyright

Courtesy of iFest
A brewery in western Ukraine has taken steps to help defend the nation against Russian aggression.
The Pravda (Truth) Brewery, a quirky yet business-savvy outfit, spoke to Euronews after they appealed on social media for donations for the materials to construct the famous petrol bomb.
"Our freedom is at stake," they wrote on Instagram, where they further suggested they are no strangers to this alternative kind of cocktail.
"Many of us went through the bloody street protests of 2014, which overthrew the ex-president, who is now hiding in Russia. Practice helps!"
Taras Maselko, PR director of Pravda's holding company !Fest, tells Euronews about this previous experience as he drives through Lviv spreading the word. 
"We have experience of this in 2014 when we used these special cocktails at the Maidan," he says. "We were kicking President Yanukovych, who was pushing us towards Russia, out of the country." 
Back in 2014, the first bottles they chose to make into Molotovs were for one particular craft offering called 'Putin Huylo' ('Putin is a dickhead') which comes in at a fairly heavyweight 8° ABV and uses the hops Magnum, Perle, and Saphir.
Fear
"We are scared," admits Maselko. "We don't want the war. And people are scared here. We have lines of people trying to go to Europe, mostly ladies with their kids. It's tough to see something like this. But still, we're getting ready to defend our country from the occupation. We're doing everything we can to prepare."
He says he is ready to move production to an undisclosed location if the war encroaches upon Lviv. "No one can tell if the war is coming here, if the missiles are coming here, if the tanks are coming here, so I don't know anything other than being ready."
"We also have restaurants in the holding company, so we are, within our company, prepared to help people who are coming here, because this is the most western city in Ukraine. It's still winter, it snowed this morning, so we are trying our best to get some food for them through our restaurants," Maselko explains, adding that the communication between civil society and local government is very good. 
He grins. 
"This is probably the only time in history when the government is publishing the recipe of the Molotov cocktails! Because we all have one aim: we're willing to defend our country.".
War and political cohesion
Asked about how he and his fellow Molotov craftsmen feel about the country's leadership, Maselko says that things have changed in the face of conflict. 
"Ukrainians normally, before the war, would not be happy at all with the president and with the government. But in today's situation, we are happy that the president is still here, we are happy that the government's still here, and they are also fighting with us, they're doing their best to do the political part of the war."
Maselko says that once the brewery had put the word out, lots of people from Lviv sent messages and money, keen to pull together to help the national effort. 
"When we announced we were starting to prepare the stuff we had a lot of people willing to help, saying 'if you need materials let us know'. Once we'd produced enough of the stuff, they were sent to eastern cities where civilians have been killed. The idea is simply that everyone does their best to do everything they can to protect our houses, our cities...our country."
This united front also extends, unusually, to beer itself, where comparisons between cooking lager and craft beer traditionally create opposition. But now there appears to be harmony in the idea that all types of beer can be used to make a good Molotov!
"We are making a joke that the mass (produced) beer here is also good now. Because there's always a war between craft beer and the mass beer, and in this case, the bottles and the labels are united in a good way as the thing you can prepare to protect your home and your country."
On Sunday, the brewery advertised that they had opened in a number of locations across the city either underground or where there is shelter in case of a threat. They offer free tea and coffee to the military, police, and National Guard.
They also added:
"We do not serve citizens of Russia and Belarus. If you have a weapon with you, please leave it in our security and they will return it to you on the way out."