Ukraine invasion: Zelenskyy rejects offer to leave Kyiv as casualties mount in battle for the city
Comments
By
Alice Tidey
&
Alasdair Sandford, Michael Daventry
with
AP, AFP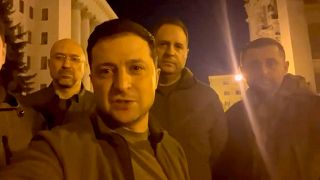 -
The centre of Kyiv remained in Ukrainian hands in the early hours of Saturday morning as intense fighting overnight appeared to stem the advance of Russia's military towards the city.
Explosions and gunfire were heard throughout the night around the Ukrainian city, with reports of hundreds of casulaties in the fighting.
The shelling sliced through at least one Kyiv apartment building and pummelled bridges and schools.
Ukraine's president Volodymyr Zelenskyy refused a U.S. offer to help him leave the city amid growing signs that Russia wanted to overthrow his government.
Meanwhile the U.S. joined other Western allies in imposing sanctions directly on Russian President Vladimir Putin and his foreign minister, Sergei Lavrov.
Follow all of Friday's developments in our live blog below:
02.25.2022
06:33
The key points to know
Several Ukrainian cities including Kyiv have seen a heavy night of fighting, forcing thousands of civilians to take shelter in basements and the city's metro system
President Volodymyr Zelenskyy refused a U.S. offer to help him leave Kyiv ahead of a Russian takeover
Ukraine's internet service has fluctuated amid reports that Russia has attacked power plants near Kyiv
The Ukrainian military has claimed to have pushed back Russian forces at several points, including the main thoroughfare of Victory Avenue
The Russian military claims to have captured a key airport, after seizing control of the Chernobyl nuclear plant and destroying dozens of Ukrainian military facilities.
Neither countries' latest military claims have been independently verified
Two major sporting events have been withdrawn from Russia: the football Champions League final and the Formula 1 Grand Prix.
Russia has also been told it cannot participate in this year's Eurovision Song Contest
02.26.2022
06:43
Rocket fire from Black Sea
Some very early reports are coming that, with the first light of day, Kalibr missiles have been fired towards Ukraine from Russian vessels on the Black Sea.
It has been reported by the Reuters news agency, citing Ukrainian military sources.
02.26.2022
06:37
Anti-war protests in Russia
The Russian civil rights group OVD-Info says at least 560 people were arrested at anti-war protests in 26 cities on Friday.
Lawyers for the organization released an updated tally to the German news agency DPA.
They said they were able to provide legal assistance to some of those arrested and that in many cases, those arrested were fined or detained.
Many people have been driven to the streets in Russia in horror over their country's attack on Ukraine.
More than 1,700 people protesting the war were arrested on Thursday, the first day of fighting, according to OVD-Info figures.
02.26.2022
06:05
Street fighting 'now underway'
As day breaks over the Ukrainian capital, the AP news agency has quoted officials in Kyiv as saying street fighting is now underway against Russian forces.
The warning issued on Saturday advised residents to remain in shelters, to avoid going near windows or on balconies, and to take precautions against being hit by debris or bullets.
Ukrainian media quoted an official from the western Khmelnitsky district that an order had been issued to start digging trenches. 
02.26.2022
05:39
Zelenskyy refuses U.S. offer to evacuate
Russian troops stormed toward Ukraine's capital early Saturday as explosions reverberated through the city and the president urged the country to "stand firm" against the siege that could determine its future. He refused American help to evacuate, saying: "The fight is here."

Hundreds of casualties were reported in the fighting, which included shelling that sliced through a Kyiv apartment building and pummelled bridges and schools.

There also were growing signs that Russia may be seeking to overthrow Ukraine's government, which U.S. officials have described as Russian President Vladimir Putin's ultimate objective.

As his country confronted explosions and gunfire, and as the fate of Kyiv hung in the balance, Ukraine President Volodymyr Zelenskyy appealed for a cease-fire and warned in a bleak statement that multiple cities were under attack.

"This night we have to stand firm," he said. "The fate of Ukraine is being decided right now." (AP)
 
02.26.2022
05:32
Facebook advertising ban
Facebook has begun restricting content from organisations connected to the Russian government on its platform, including Russian state media organisations.
Russia's state-owned Tass news agency said on Saturday morning that state media had been banned from showing advertising or paying to promote its own content on the network.
The restrictions also applied to other social media platforms belonging to Facebook's owner, Meta, it said.
The report did not say which state media organisations were affected, but RT and Sputnik are both known to use Facebook extensively.
It follows reports on Friday that Russian authorities planned to restrict public access to Facebook because of the platform's plans to ban Kremlin-backed media.
Separately, Twitter announced it is pausing advertisements in Ukraine and Russia in order to "ensure critical public safety information is elevated and ads don't detract from it".
02.26.2022
05:15
Ukrainian internet use plunges
Away from the fighting, it remains a difficult night for ordinary Ukrainians at home or in shelters because of a sudden drop in internet connectivity across the country.
The monitoring group NetBlocks says service has since resumed, but remains unstable amid ongoing fighting in Kyiv.
For those Ukrainians who have abandoned their homes or shelters to try leave the country, a protracted queue awaits.
One journalist for
The Independent
reports
a 40-kilometre tailback at the western border with Poland as thousands of families with children attempt to cross in subzero temperatures.
02.26.2022
03:30
Ukraine claims Kyiv fightback
Ukrainian forces said on Saturday that they repelled a night-time "attack" by Russian soldiers against one of their positions on Victory Avenue, one of Kyiv's main arteries.
"The attack is repelled," said the Ukrainian army in a message on its Facebook account, without giving more details on the exact location of this confrontation. (AFP)
02.26.2022
03:28
Double credit ratings downgrade
The ratings agency Standard & Poor's has downgraded both Russia and Ukraine's credit ratings as a result of this week's military action.
The agency cut Russia to BB+ with a warning that the sanctions announced by the European Union, United States and other countries could have an effect on economic activity, confidence and financial stability.
Ukraine was lowered to B- because of the uncertainties in the country relating to the military conflict.
02.26.2022
03:00
Russian ally refuses to help
Kazakhstan has announced it will not recognise the two breakaway republics of Donetsk and Luhansk in eastern Ukraine that were recognised by Russia as independent states.
NBC News reports that the Central Asian nation, a traditional ally of Russia, has also declined to send troops to join the offensive against Ukraine -- a move welcomed by the United States.
NBC
quotes
the White House National Security Council as saying: "We welcome Kazakhstan's announcement that they will not recognize the LPR and DPR. We also welcome Kazakhstan's refusal to send its forces to join Putin's war in Ukraine."