Firefighters contain wildfire that threatened resort town near Athens
Comments
By AP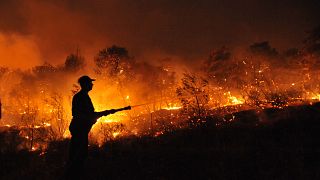 -
Greek firefighters say they have contained a wildfire that prompted overnight evacuations at a resort northeast of Athens.
Local officials said a few houses on the outskirts of Nea Makri had suffered fire damage, but no injuries were immediately reported.
The large forest fire did however burnt brushwood and pines in the area, around 38 kilometres northeast of the capital.
More than 150 firefighters and volunteers battled through the night, using hoses and excavators to tackle the blaze.
They were joined early on Tuesday morning by two water-dropping planes and one helicopter.
In August, much of central and southern Greece suffered widespread damage from wildfires, which ravaged forests and destroyed hundreds of homes on the island of Evia and on the northern fringes of Athens.
The blazes followed days of the country's worst heatwave in decades, which left the countryside parched and tinder dry.