'Slap in the face' for Macron as his party scores poorly in regional vote
Comments
By Euronews with AFP, AP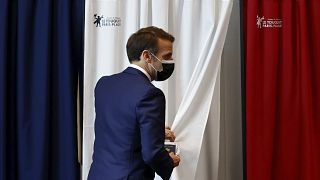 -
Copyright

Christian Hartmann/Pool via AP
French President Emmanuel Macron and far-right leader Marine Le Pen failed to convince voters in Sunday's regional and departmental elections which were marked by a record low turnout.
Exit polls put abstention at an unprecedented 66% to 68% — a new record and a sharp rise from the 50% observed at the 2015 regional ballot.
Despite having local issues at its core, Sunday's vote was being regarded by some as a prelude to next year's presidential election where Macron and Le Pen are widely expected to battle it out in the second round.
Voters were electing councilors for France's 13 regions as well as for 96 départements. Parties that won more than 10% of the votes in the first round can advance to the decisive runoff on June 27.
Macron's centrist La République en Marche party (LREM) party, and Le Pen's Rassemblement National (RN) both failed to make the gains they hoped for with the legacy right-wing and left-wing parties expected to maintain their grip on regional legislatures.
Macron's camp has described the record abstention as a "democratic slap in the face" while Le Pen has blamed it for her party's poor results.
The far-right leader urged voters to go to the polls for the second round to be held this coming Sunday.
"After months of restrictions on your freedoms, I call on you to unlock your ideas and redress the outcome of this first round. Go to the polls," she said.
Ahead of the vote, RN was projected to take a significant lead in the Provence-Alpes-Côte d'Azur (PACA) region — which they hoped would translate into the party securing its first regional presidency — but the lead is much narrower than expected with the incumbent president from the right-wing Les Republicains (LR) party snapping at their heel. The far-right party is seen retreating 8 to 9 percentage points nationwide compared to 2015.
Overall, incumbents had a good day. LR candidates appear on course to retain their seats in Hauts-de-France, Auvergne-Rhône-Alpes and the Parisian wider region of Île-de-France. Nationwide, LR is in the lead with more than 27.2% of the vote, well ahead of RN's 19%.
The Socialist Party, more or less decimated since the 2017 presidential election, is also expected to keep the presidencies in Occitanie and New Aquitaine. Its incumbent candidates in Bourgogne-Franche-Comté, Brittany, and Centre-Val-de-Loire also have narrow leads.
LREM however, had yet another bad electoral night, polling at about 10% to 11% nationally. Macron's party, founded ahead of the 2017 presidential election, has so far failed to convince at the local level.
The party's executive officer, Stanislas Guérini, sought to minimise the electoral beating on Sunday, telling RTL radio that "local elections are local elections, there is a premium for those who are established."
"It's progressive work, which we must continue," he went on. "This is certainly not a time for discouragement but for mobilisation."