This Togo football agent is helping homeless children through sport
By Euronews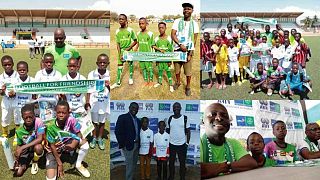 -
Copyright

Football for Friendship
In Kodjoviakope, a neighbourhood in Togo's capital close to the border with Ghana, an ordinary school has been given a prize for doing extraordinary things to help homeless children.
It all started when Jean Koffi Akpo, a football agent and manager by profession, became determined to solve a growing issue.
"Many children between seven to 15 years old are homeless. They sleep on the beach and under the rain, even during the cold season. This environment pushes them to commit crimes, that involve drugs, stealing, sketchy businesses, and violence," he told Euronews.
Koffi got the idea to use football "as a peacemaker" to unify the children, and stop violence, garnering support from the institution where he works — the Sporting Club of Lomé.
"Football has no language," he said. "If you bring kids from different countries together they will be able to play it."
"And that's basically what we did — now they are like one big family."
The football agent has also been working to get homeless children into school so they can "learn to read and write" and also acquire carpentry and masonry skills.
Koffi dreams of having his own school and football academy in Kpalimé, a town 120 km from Lomé, "with a little farm close to the academy so that we can feed the kids from the harvest."
The Togolese man has also helped 13 homeless children to find their way back to their families in neighbouring countries — Nigeria, Benin, Ghana.
"Some of them have come all the way from Niger, can you imagine?" he says.
Gazprom's international social programme for children, Football for Friendship (F4F), recently gave Koffi's project, representing the Sporting Club of Lomé an award for "building peace" through football.
F4F aims to unite children from all over the world through football, overcoming borders, conflicts and a drawn-out pandemic.
Award winners were announced on May 29 during the grand final of the programme's ninth season.
All the projects that received a prize focused on developing children's football and solving problems through the sport.
The expert council of the programme reviewed applications from football academies around the world, including Uganda, Kenya and India.
Since 2018, the Sporting Club of Lomé in Kodjoviakope has represented Togo in the F4F live programme.
This year, participants from over 200 countries took part remotely in the event, which featured numerous activities throughout the year.