Pictures of the week: Europe pandemic pressure, Mediterranean tragedy, Crete floods
Comments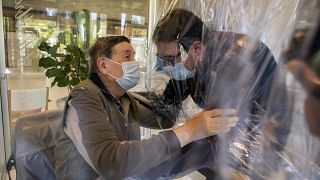 -
Copyright

Filippo Ciappi/LaPresse via AP
Health systems across Europe are straining under the pressure of the pandemic. Italy is one of the countries hit hardest by the second wave, logging one million total cases of coronavirus infections on Wednesday.
Heavy flooding on the Greek island of Crete has damaged roads, flooded hundreds of homes and swept cars into the sea.
At least 74 migrants drowned trying to make their way to Europe after their boat capsized off the coast of Libya, it's the latest in a series of at least least eight shipwrecks in the Central Mediterranean since last month.
The key stories from the week along with several others were expertly captured by photographers around the world.