One killed as violence erupts in weekend of protests across US
Comments
By Euronews with AFP & AP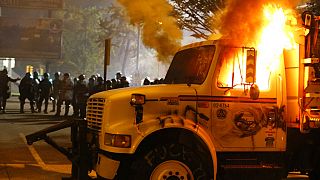 Violence erupted in some US cities over the weekend, in a wave of anger sparked by President Donald Trump's decision to increase deployment of federal agents across the country.
Demonstrators squared off against federal agents outside a courthouse in Portland, Oregon, forced police in Seattle to retreat into a station house and set fire to vehicles in California and Virginia.
Demonstrations against racism and police brutality have surged in the US since the death in Minneapolis of unarmed black-American George Floyd in May.
Protesters in Seattle slashed car tires and smashed trailer windows during the demonstrations on Saturday, prompting police to declare a riot and clear the streets with pepper spray.
Protesters also set fire to trailers by a construction site for a youth detention facility. Police said 45 people were arrested and 21 officers were injured. The march was in support of ongoing protests in nearby Portland, Oregon.
Portland has taken centre stage in the controversial crackdown by federal agents that Trump ordered — the move is not supported by local officials, who say officers use excessive force.
Protesters in the city breached a fence surrounding the federal courthouse building where the agents have been stationed.
Police later declared a state of "riot" and attempted to clear the area by tear-gassing protesters, but they stayed until 2.30 am local time, holding makeshift shields as the officers patrolled the area.
Multiple people were arrested, though it was not immediately clear how many.
In Austin, the capital of Texas, a man was killed in on Saturday after being shot by a person who drove through a march against police violence.
The driver and several witnesses told police that the man who was killed, named as 28-year old Garrett Foster, approached the driver and pointed an assault rifle in the vehicle at them.
In a video live-streamed on Facebook by an independent journalist, a car can be heard honking before several shots ring out and protesters start screaming and scattering for cover.
Sheila Foster, Garrett's mother, said she was told her son was pushing his fiancée, who uses a wheelchair, through an intersection when the suspect was driving "erratically" through the crowd.
In Denver, Colorado, a protester shot and wounded a person after a car drove through a crowd marching on an interstate highway, police said.
The wounded person was taken to a hospital in a stable condition.
In Oakland, California, protesters set fire to a courthouse, damaged a police station, broke windows, spray-painted graffiti, shot fireworks and pointed lasers at officers in what started as a peaceful demonstration on Saturday evening, police said.
In Virginia's capital, Richmond, a dumper truck was set alight as several hundred protesters and police faced off. Police declared it to be an "unlawful assembly" at around 11 pm and used what appeared to be tear gas to disperse the group.
Demonstrators also marched in Kentucky's Louisville, Georgia's Atlanta, Nebraska's Omaha, Los Angeles and New York.
The protests come as Trump faces an increasingly tough battle for re-election in November, and is campaigning on a "law and order" platform.
He tweeted on Saturday that the protesters are "anarchists" who hate the US.