Coronavirus latest: UK now second worst-hit country in Europe
Comments
By Euronews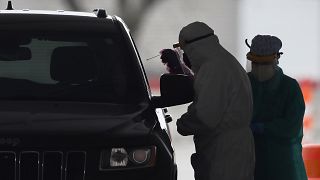 Copyright

AP Photo/Charlie Neibergall
Coronavirus latest - summary
The United Kingdom became Europe's second worst-hit country on Wednesday after fatalities from care homes were included in official figures. It has now recorded more than 26,000 deaths. (More details in our live blog below).
The World Health Organisation said it will reconvene its Emergency Committee on Thursday — three months to the day after declaring a global public health emergency
The United States has recorded more than one million coronavirus cases — a third of the global total — while COVID-19 has now killed more Americans than the Vietnam War
German economy is set to contract by 6%, economic think tank says
Coronavirus testing to be expanded in the UK
Trump says US could test international air travellers for coronavirus
EU will consider debt relief for African countries
04.29.2020
20:41
UK second worst-hit in Europe by COVID-19
To summarise today's events from Britain:
The UK's death toll from COVID-19 has now leapt to 26,097 people, making the country the second worst hit in Europe, after Italy.
Earlier the government said it was too early to consider lifting lockdown restrictions. 
"We must not gamble away the progress we've made," said foreign affairs minister Dominic Raab, adding that the government would wait for a meeting of the government's Scientific Advisory Group for Emergencies (SAGE) in early May before making a decision. 
The government has pledged to reach 100,000 tests for COVID-19 by the end of April -- that's tomorrow.
Raab said 52,000 tests were carried out on Tuesday.
04.29.2020
23:12
That's all from our live blog from tonight; Join us tomorrow, Thursday, from 0600 CEST for more updates.
04.29.2020
23:10
'Most EU states' want Brussels to suspend refunds for cancelled flights law
More on our exclusive story reported earlier... Euronews has been told that at least 16 EU states -- a clear majority of the 27 -- back the call to amend a law which forces airlines to give full refunds for cancellations.
They say the sheer impact of the coronavirus crisis means they should be allowed to offer vouchers for future travel instead. Read on for the latest (updated at 23.04 CEST):
A dozen EU states today called on Brussels to temporarily suspend a European law granting refunds for cancelled flights.
04.29.2020
22:22
Prague protest over Czech government's lockdown policy
Hundreds of people have been protesting what they say is a chaotic response by the Czech government to the coronavirus pandemic.
The organizers, who were behind the recent massive demonstrations against Prime Minister Andrej Babis, have asked the participants to keep the two-meter (two-yard) distance from one another in line with the government's rule.
Wearing mandatory face masks, the protesters in Prague's Letna park carried banners with comments such as "Let our children get back to schools!" or "Why did we have to make our face masks by ourselves?".
The day-to-day increase in new cases of COVID-19 in the Czech Republic has been under one hundred for a week, according to Health Ministry figures. (AP)
(AP Photo/Petr David Josek)
04.29.2020
21:55
Nearly half of world's workers 'risk losing livelihoods' over COVID-19 lockdowns
More on our earlier story (blog post 1445 CEST) on the International Labour Organization's warning about the potential impact of coronavirus lockdowns. Here's our report... Watch ILO Director-General Guy Ryder's comments in the video player:
The ILO estimates that 1.6 billion people are in "severe danger" of losing between 60 and 80 per cent of their income
04.29.2020
21:46
Dentists in France post nude photos to highlight lack of protective gear
Dentists in France have posted naked photos of themselves on social media in an effort to draw attention to their need for personal protective equipment.
With the hashtag #dentistesapoil, meaning "naked dentists", they've gone au naturel to show how it feels to be asked to work without protection. More below...:
04.29.2020
21:29
French MPs approve COVID-19 tracing app despite privacy concerns
French MPs have approved the launch of a COVID-19 tracing app, as part of a wide-range set of measures for easing a national lockdown.
The app, named StopCovid, will be one of the first of its kind to be launched by a European government. Health agencies believe mobile phones can help efforts to track who COVID-19-infected people have been in contact with.
But there are concerns about how the data could be used after the crisis. Here's See Ryan Thompson's report below:
04.29.2020
21:03
Germany expects sharp recovery in economy in 2021
Germany's economy minister on Wednesday said the government is predicting a 6.3% drop in its GDP because of the new coronavirus pandemic, but is predicting a sharp recovery in 2021.
Peter Altmaier told reporters in Berlin that by the end of second quarter of 2020 the country was likely to see a contraction of about 11% of GDP before signs of improvement, due to widespread lockdown measures put in place to slow the spread of the new virus.
The country has already embarked upon cautious steps to relax those measures and Altmaier said he hoped the government will be able to move ahead with more normalisation of the economy if the initial steps aren't seen to have again significantly increased the rate of infections.
At least 160,479 infections of the new coronavirus have been recorded in Germany, with 6,314 deaths, according to government figures.(AP)
04.29.2020
20:34
Swiss minister apologises for warning against international travel until 2021
Switzerland's Economics Secretary of State has apologised after warning citizens not to travel internationally until 2021.
The comments triggered outcry within the country's tourism industry. More here:
Erik Jacob had said that uncertainty in the aviation industry was likely to remain for a considerable period of time, but has since clarified his comments and says they were a "personal recommendation".
04.29.2020
20:22
Graduates struggling for job leads amid COVID-19 lockdown uncertainty
Young people are seeing uncertainty engulf their employment prospects amid the pandemic. What should the EU do to help? Read on:
Now is a tough time for everyone, especially job-hunting graduates. Recruitment specialists say young people should use the time to improve their skills.