Canary Islands sandstorm from Sahara disrupts hundreds of flights
Comments
By Euronews with AP, AFP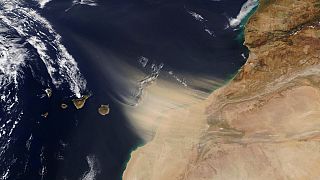 -
Copyright

(NASA via AP)
Flights to and from Spain's Canary Islands, off the west African coast, slowly resumed on Monday after being grounded due to a huge Saharan sandstorm.
"Weather improvements during the night have allowed the restoration of air traffic at every airport," Spain's Ministry of Transport announced.
The President of the regional government, Angel Victor Toress, told the country's public broadcaster TVE that "it's been a nightmare of a weekend".
"We haven't seen an episode like this in 40 years," he added.
Flights to the islands, which rely on air links for supplies and tourism, were disrupted from Saturday because of the unusual meteorological conditions.
The storm phenomenon, locally known as "calima," is capable of lifting up clouds of sand and dust from the Sahara desert and transporting them across the 95 kilometers (59 miles) separating the islands from the African coast.
Authorities said planes had been diverted to other destinations.
Schools were closed on Monday as the regional government said winds could reach 120 kmph.
At least 822 flights were affected.
Local transport minister Jose Luis Abalos thanked other airports for their "solidarity" in dealing with the disruption and diverted aircraft.
Air transport professionals "do not remember ever having seen such bad weather for air transport in the Canary Islands", he said.