Markets plunge further COVID-19 fears, with Dow closing down more than 870 points
Comments
By AP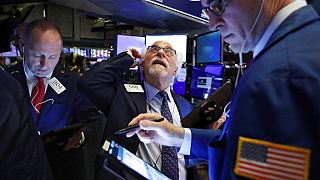 -
Copyright

AP

-

Richard Drew
Stocks slumped on Wall Street again on Tuesday, piling on losses a day after the market's biggest drop in two years as fears spread that the growing COVID-19 outbreak will slow global economic growth.
Nervous investors snapped up low-risk government bonds, sending the yield on the 10-year Treasury note to a record low.
Meanwhile more companies warned that the outbreak will hurt their finances, including Mastercard and United Airlines. Travel-related stocks took another drubbing, bringing the two-day loss for American Airlines to 16%.
New cases are being reported in Europe and the Middle East, far outside the epicentre of China. The latest cases have raised fears that the virus could spread further.
The worst-case scenario for investors hasn't changed in the last few weeks — where the virus spreads around the world and cripples supply chains and the global economy — but the probability of it happening has risen, said Yung-Yu Ma, chief investment strategist at BMO Wealth Management.
"It's the combination of South Korea, Japan, Italy and even Iran" reporting virus cases, Ma said. "That really woke up the market, that these four places in different places around the globe can go from low concern to high concern in a matter of days and that we could potentially wake up a week from now and it could be five to 10 additional places.''
The decline on Monday sent the Dow Jones Industrial Average more than 1,000 points lower and wiped out its gains for the year. The S&P 500 is now down6.5% from its record high set last Wednesday.
Technology stocks, which rely heavily on China for both sales and supply chains, once again led the decline. Apple dropped 1.4% and chipmaker Nvidia fell 4.2%.