A week after the election, MPs approve Brexit legislation paving way for January 31 exit
Comments
By Euronews with Associated Press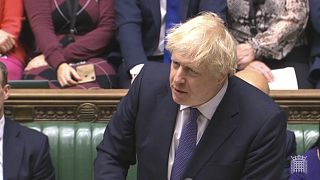 British MPs have this afternoon approved Boris Johnson's Brexit deal, which paves the way for the UK to quit the bloc on January 31.
It comes just a week after Johnson's Conservatives won a landslide election victory, running on a ticket of "getting Brexit done".
The bill passed by 358 votes to 234 and ends months of stalemate on the issue in the House of Commons.
The Withdrawal Agreement Bill clears the way for the UK to leave the EU at the end of January.
The bill commits Britain to leaving the EU on January 31 and to concluding trade talks with the bloc by the end of 2020.
EU officials have said reaching a free trade deal within 11 months will be a struggle, but Johnson insists he won't agree to any more delays.
"It is going to be difficult to secure a good trade deal for Ireland, principly because Prime Minister Johnson has fixed on a harder Brexit than might have been anticipated", Leo Varadkar, the Irish Prime Minister said on Friday.
"We don't want to have free trade with a Britain that undercuts us on workers' rights, has lower environmental standards, has lower product standards, lower health and safety standards. It's going to be a tall order to get that agreed and ratified by the end of 2020."
The Brexit bill has been amended to prevent ministers from agreeing to extend the transition period with the EU.
After the vote was passed, Brexit supporters jumped for joy in Westminster.
"It's the moment that we have had to wait a very long time for", Patricia Sharman, artist and Brexit supporter, told AP. "It's the people's victory. Democracy reigns and I'm absolutely delighted and very emotional."
Eleanor Dobson, a teacher, said: "I'm just relieved that it is going to go through. I think between now and December 2020 when we finally leave completely is a time when we need to be careful because it is the transition period and we won't have representation in Europe, but I am very relieved that this deal has gone through because it was the only way we were going to get out."
Remainers, British citizens who wished to remain in the EU, were morose.
"I think it is a terrible time for our country, a terrible time for our reputation, a terrible time, above all for our representative democracy", Peter Roberts, a Remain supporter, said. "I'm really afraid."