UK election: 'Getting Brexit done is going to take decades' says Jonathan Coe
Comments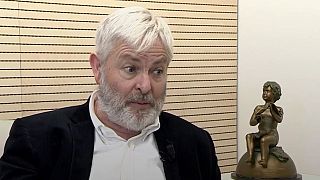 Jonathan Coe is the winner of the 13th European Book Prize with Middle England. Described as a state-of-the-nation novel, it documents the rift in British society after the 2016 Brexit referendum.
The British writer received his award at a ceremony in the European Parliament, and Euronews took the opportunity to hear his views about the UK general election.
Coe told us he believes Boris Johnson's Conservatives will be narrowly re-elected but that "we are in for a very rocky and confrontational five years", and "getting Brexit done is going to take decades".
For the UK, he argues that a citizens' assembly might be a way of bridging the gap between direct democracy -- expressed by the referendum vote to leave the EU -- and representative democracy, as embodied by parliament.
Watch extracts from the interview in the player above
Three books across 40 years
Middle England is the third in a series of novels that began with The Rotters Club back in 2001, set in the 1970s and followed by The Closed Circle in 2004 which picks up the main characters at the end of the 1990s.
"I've comeback in this book to a group of characters that I've already written about in two of my earlier novels: "The Rotters' Club" and "The Closed Circle". So the characters, or many of them, were already made as it were. The intention was to put a human face onto political events."
The initial book betrays his experiences at a boys' school in Birmingham, with a musical backdrop of 70s prog rock but also a tangible polemical backdrop of how government job cuts affect the working classes.
This talk of class takes us back to Boris.
"It is kind of extraordinary that among working class voters he is very popular,: says Coe. "They do not see him as one of the elite even though he is from a very privileged background.
"You see it in the same way that Trump has connected to people in America," he adds.
Will there be a fourth novel in the series?
Coe says there will be.
"I am very attached to my mane character Benjamin Trotter - he is a kind of alter ego - and I am curious as a writer to find out how he will deal with old age. I think that the story of Brexit is only going to get more complicated, more difficult. Boris Johnson uses this phrase that is going to "get Brexit done" on January 31st, but we all know that you can not get Brexit done overnight. Getting Brexit done is going to take decades and they are going to be very difficult decades."
British or European?
Coe is not simply a British writer. His fourth and arguable most popular novel, What a Carve Up! was translated into sixteen languages. He is a recipient of the Prix du Meilleur Livre Étranger in France. His fifth novel The House of Sleep won the Prix Médicis.
On top of that he has penned two titles that were only published in Italy including La storia di Gulliver, a children's adaptation of Jonathan Swift's Gulliver's Travels.
His novel The Terrible Privacy of Maxwell Sim was turned into a French film.
In 2013 he published the overtly comic novel Expo '58, which charts the adventures of a young Brit working at the 1958 Brussels world fair.
The sense of humour, however, is unmistakably British and firmly in the tradition of his hero, David Nobbs.
_Jonathan Coe was speaking to Euronews' Isabel Silva in Brussels. _