Game on: Britain's election rivals trade blows on first day of campaigning
Comments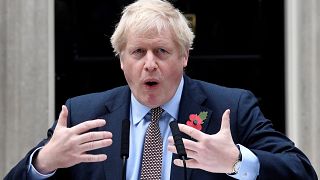 Boris Johnson compared Jeremy Corbyn to Soviet dictator Joseph Stalin and Nigel Farage pitched for votes in the Labour heartland of Carlisle as Britain's election campaigns were launched on Wednesday.
Corbyn, meanwhile, kicked off his campaign at an event in Telford where he said that he would be "a very different kind of prime minister" and would not engage in personal attacks against his rivals.
But he went on to echo many of his previous criticisms of Johnson as a prime minister "who believes he was born to rule"
"Let's be honest, Westminster hasn't covered itself in glory recently," Corbyn said. "The childish insults, the rowdy MPs, the weird rules – it's all a long way from the reality of people's daily lives."
Meanwhile, Labour deputy leader and Corbyn critic Tom Watson announced that he would not be seeking re-election in December. In a letter to Corbyn he said the decision was "personal, not political."
More: Why tactical voting is the talk of the UK's upcoming general election
Johnson had an audience with the Queen Wednesday marking the official dissolution of Parliament and the start of campaigning ahead of the December 12 vote.
He said winning the election and passing his Brexit deal would "release a pent up flood of investment."
Johnson used a metaphor for vomiting as he launched his Brexit-driven election campaign, describing a potential government led by Corbyn.
He pledged to put the uncertainty of Brexit "behind us" if he wins the election. which he called in order to break the political deadlock over Britain's departure from the EU.
"Imagine waking up on Friday December 13 and finding Corbyn at the head of his technicolour yawn of a coalition," Johnson said on the steps of 10 Downing Street.
The early election was agreed by parliament last week after three years of deadlock over how to proceed with Brexit, which was voted for back in 2016.
The outcome of the election is hard to predict, despite polling showing the Conservatives well ahead of Labour. The issue of Brexit means that for many voters a tactical vote may be their best option, rather than voting for the party they traditionally choose in a general election.
More: Where does each party stand on Brexit?
Speaking at an event in Carlisle, Nigel Farage told an audience of around 40 people that the Labour party promised in its manifesto of 2017 that it would abide, respect and implement the result of the referendum.
"They tell us we didn't know what we were voting for. How dare they patronise us and talk down to us as if we were a bunch of cretins," he said. "They have betrayed Labour voters."
Farage also said that he was committed electoral reform that would mean an end to the so-called first-past-the-post (FTTP) which makes it difficult for smaller parties to win seats in parliament.
A shaky start for the Conservatives
The official start of campaigning comes following a bad couple of days for the Conservatives.
House of Commons leaderJacob Rees-Mogg faced a barrage of criticism for suggesting on a radio show that the victims of the Grenfell Tower fire - which killed 71 people - should have used common sense to ignore firefighters' instructions to stay in the building.
He subsequently apologised for his comment.
The Conservatives were then accused of publishing on social media a doctored video clip of an interview with a senior Labour politician, Keir Starmer.
And on Wednesday, minutes before Johnson was due to speak outside Downing Street, his Secretary of State for Wales, Alun Cairns resigned after being accused of lying about his knowledge about an aide who allegedly sabotaged a rape trial.
"This is a very sensitive matter, and in the light of continued speculation, I write to tender my resignation as Secretary of State," Cairns said in a letter to Johnson.
'Get Brexit done'
In his column in the Telegraph newspaper on Wednesday, Boris Johnson wrote that he didn't want an election but had no choice because "only by getting Brexit done in the next few weeks" could he focus on the priorities of the British people.
He also aimed to paint Labour's leader Jeremy Corbyn as someone who wants to punish prosperity, comparing him to former Soviet Russian leader Joseph Stalin.
"They pretend that their hatred is directed only at certain billionaires...and they point their fingers at individuals with a relish and a vindictiveness not seen since Stalin persecuted the kulaks," Johnson wrote.
Millions of people were executed under Stalin and many more perished from abuse and disease in a vast network of prison camps, known as the Gulags. Relatively affluent farmers, known as kulaks, were among the groups targeted.
Corbyn has said if he wins the election he will negotiate a new Brexit deal with the EU and then let the public decide between his deal or remaining.
He says Johnson's withdrawal agreement would hurt the economy and erode workers' rights.
Watch the Labour leader's speech in full below.