Labour deputy and Corbyn critic Tom Watson standing down as MP
Comments
By Euronews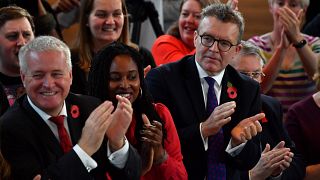 Labour party deputy leader Tom Watson has announced he is standing down as an MP at the next election on December 12.
In a letter to Labour leader Jeremy Corbyn which was shared on his Twitter profile, Watson said that serving the party "had been the privilege of a lifetime".
He added that his decision was "personal, not political."
Watson, who had represented West Bromwich East since 2001, had clashed with Corbyn over the change in direction of the party since the left-winger was elected leader in 2015, most notably over Brexit.
Earlier this year there was a bid by the Corbynite left of the party to abolish Watson's post, who had frustrated Corbyn loyalists with his criticisms of the handling of the scandal over anti-Semitism.
In his letter, Watson alludes to "the disagreements we have had inside the party are well-known; now is not the time to rehearse them again."
But in his response to Watson on Twitter, Corbyn too played down the differences between the two Labour veterans.
Corbyn's letter was even more genial than Watson's, referring to to their "convivial chats about about [...] cycling, exercise and horticulture."
"I hope the horseradish plants I gave you thrive," he said.
Read more:
UK election 2019: Is the 'toxic' atmosphere over Brexit pushing more MPs to quit?