Huntsman resigns as Trump's ambassador to Russia amid speculation about gubernatorial run
Comments
By Josh Lederman and Dareh Gregorian with NBC News Politics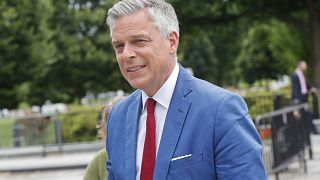 -
Copyright

Pablo Martinez Monsivais AP file
U.S. Ambassador to Russia Jon Huntsman has submitted his resignation to President Donald Trump after two tumultuous years on the job, two U.S. officials and another person close to the diplomat confirmed to NBC News.
The former Utah governor has been in the job since 2017. His resignation, effective Oct. 3, comes amid widespread speculation in Utah that he might run for governor again.
Huntsman's resignation letter was obtained and published by The Salt Lake Tribune. Huntsman's brother Paul Huntsman is the newspaper's owner and publisher. The U.S. officials confirmed the authenticity of the letter to NBC.
In the letter, Huntsman says it was his "singular honor" to serve as ambassador in Russia during a "historically difficult period in bilateral relations," but that the time had come for him and his wife to move on.
"Our desire is to return to the United States after two years to reconnect with our growing family and responsibilities at home," wrote Huntsman, 59.
During his time as ambassador, Russia expelled 60 U.S. diplomats and shuttered the U.S. consulate in St. Petersburg. That was in retaliation for the U.S. expelling Russian diplomats after the poisoning of former spy Sergei Skripal.
Prior to taking the job, Huntsman was known for his tough stance on Russia, including what he said was the need to hold the Kremlin accountable for interfering in the 2016 presidential election.
The president took a more conciliatory tone with Russia and President Vladimir Putin, telling reporters during a joint press conference with Putin in Helsinki, Finland, last year that "I have great confidence in my intelligence people," but "I will tell you that President Putin was extremely strong and powerful in his denial today."
In his resignation letter, Huntsman said he and his team had worked to stabilize the relationship between the two countries, but urged the president to stand up to Russia when necessary.
"Going forward, we must continue to hold Russia accountable when its behavior threatens us and our allies," Huntsman wrote. He said the priorities for the relationship with Russia include "verifiable arms control" and "insisting that Russia respect the sovereignty of its neighbors."
Huntsman, who served as ambassador to China in the Obama administration, ran for president as a Republican in 2012.