'Tremendous victory': Trump toasts US-EU deal on beef imports
Comments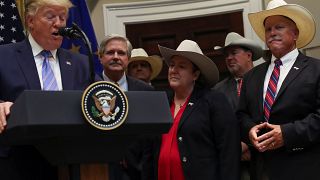 Copyright

REUTERS/Leah Millis
The US and the European Union have signed a deal to settle their former dispute over beef imports, US President Donald Trump says. 
He called the agreement a "tremendous victory for rangers, farmers, and European consumers because American beef is considered to be the best in the world".
The deal — agreed in principle in June — will see a larger quota for "high quality" American beef, that is to say without hormones.
The fight over hormone beef began in 1988 when Europe banned the import of beef from animals that were given growth hormones.
The European Commission earlier said any beef deal will not increase overall beef imports and that all beef coming in would have to be hormone-free to respect EU food safety regulations. Any deal would have to be approved by the European Parliament.
US and European officials have been trying to lay the groundwork for a trade deal but have been blocked by an impasse on agriculture.
The announcement will be made amidst Washington's trade dispute with China. On Thursday, Trump said he would impose a 10% tariff on $300 billion of Chinese imports starting on September 1 and threatened to raise tariffs even more if Chinese President Xi Jinping failed to move faster on striking a trade deal.
The fight between the world's two biggest economies has hurt world growth, including in Europe.