Trump DOJ plans to execute inmates eligible for federal death penalty
Comments
By Jonathan Allen with NBC News Politics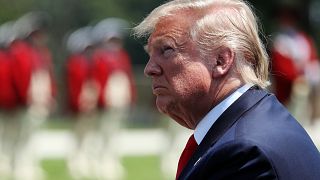 -
Copyright

Mark Wilson Getty Images
WASHINGTON — Four of the five inmates President Donald Trump's Justice Department plans to execute in the coming months are eligible for the federal death penalty because of provisions in the 1994 anti-crime law sponsored by 2020 Democratic presidential front-runner Joe Biden.
The Justice Department's announcement Thursday that it would resume capital punishment came two days after Biden reversed course by proposing a termination of the federal death penalty.
Daniel Lewis Lee, Lezmond Mitchell, Wesley Ira Purkey, Alfred Bourgeois and Dustin Lee Honkin are scheduled to be put to death between December and January. All but Bourgeois were convicted of federal capital crimes that were established under the 1994 law, according to Christopher Slobogin, chair in law and director of the criminal justice program at Vanderbilt University.
A spokesman for Biden did not immediately respond to NBC News' request for comment on the DOJ plan. Biden was the lead Senate sponsor of legislation that became the Violent Crime Control and Law Enforcement Act of 1994, colloquially known as the "crime bill." The final version was approved by the Senate on a 61-38 vote, following a 235-195 vote in the House. President Bill Clinton signed the measure into law.
The timing of the Trump administration move, coming as it does on the heels of Biden's change of position, could provide an opening for his rivals to make an issue of his previous stance when Democrats meet for their next set of debates, which take place Tuesday and Wednesday in Detroit.
"On the politics, it's perversely brilliant; it drives a deeper wedge between Biden and his opponents, and perhaps even more deviously, between Biden 1994 and Biden 2019," said Jeff Smith, a former Democratic state senator from Missouri and author of Mr. Smith Goes to Prison: What My Year Behind Bars Taught Me About America's Prison Crisis.
"On the substance, it's terrible public policy that goes against the trend in every other industrialized democracy in the world," Smith said in an exchange of texts. "It's inhumane and cruel, it's irreversible (even as we know there have been dozens if not hundreds of people mistakenly put on death row), and it's even more expensive on average than life sentences, given the number of appeals in death penalty cases."
Biden's turnaround put him in line with almost everyone else in the Democratic presidential field, including Sens. Kamala Harris, D-Calif., Elizabeth Warren, D-Mass., and Bernie Sanders, I-Vt., but at a time when he is trying to navigate the shoals of both the primary and a possible general election matchup with Trump, it also gives Trump ammunition to portray him as moving leftward to appease Democratic primary voters.
The crimes for which the death row prisoners were convicted were particularly heinous, according to Justice Department summaries detailing them:
Lee killed a couple and the woman's 8-year-old daughter, throwing them in a bayou with weights, and was eligible for the federal death penalty because the crime was in furtherance of a racketeering scheme designed to raise money for a white supremacist organization.
In a carjacking, Mitchell killed a 63-year-old grandmother and later slit the throat of her 9-year-old granddaughter before crushing the girl's skull with rocks.
Purkey kidnapped, raped and murdered a 16-year-old girl before dismembering and burning her body.
Bourgeois beat his 2-year-old daughter to death on a military base.
Honken killed five people, including two young girls, to silence witnesses in a drug trial, and was convicted of murder in the course of operating a continuing criminal enterprise.
Under the 1994 anti-crime law, the federal death penalty could be applied in cases in which a murder was committed in conjunction with a variety of other crimes, including racketeering, carjacking, rape and child molestation, kidnapping, and running a drug ring (referred to as a continuing criminal enterprise).