Boris Johnson vows to deliver Brexit and 'energise' the UK as prime minister
Comments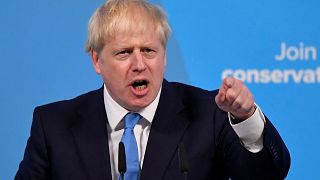 Boris Johnson has been elected to lead the UK's Conservative Party, meaning he will succeed Theresa May as the country's new prime minister.
The 55-year-old former mayor of London won the leadership race on Tuesday after securing 92,153 votes compared to 46,656 votes for his opponent, Foreign Secretary Jeremy Hunt.
There were 159,320 votes in total from Conservative Party members on the ballot, marking the turnout at 87.4%.
READ MORE: Diplomatic disaster, EU basher or reincarnated olive - who is the new British leader?
READ MORE: Where are we on Brexit?
Speaking shortly after the announcement on Tuesday, Johnson vowed to "deliver Brexit, unite the country and defeat [Labour leader] Jeremy Corbyn" after taking on the role of prime minister.
He later noted that an unfortunate acronym — DUD — could be gleaned from his "deliver, unite and defeat" slogan, and insisted that many had forgotten to add "energise" to the list to create DUDE.
"To all the doubters, I say — dude, we're going to energise this country," he quipped.
"We're going to get Brexit done on October 31. We're going to take advantage of all the new opportunities in the spirit of can-do."
Reactions
A flurry of reactions from politicians and leaders around the world were posted after the leadership announcement.
Michel Barnier, the European Union's chief negotiator on Brexit, said he was looking forward to "working constructively" with Johnson on achieving an "orderly Brexit".
"We are ready also to rework the agreed declaration on a new partnership in line with European Council guidelines," he said.
Meanwhile, Theresa May congratulated her successor and said he had her "full support" from the backbenches of government.
She added: "We now need to work together to deliver a Brexit that works for the whole UK and to keep Jeremy Corbyn out of government."
Hunt also congratulated his rival on a "campaign well fought," and said he believed Johnson would make "a great prime minister" at a "critical moment".
"Throughout the campaign you showed optimism, energy and unbounded confidence in our wonderful country and we need that," he wrote.
Across the Atlantic, US President Donald Trump tweeted a short message of congratulations, saying: "He will be great!"
But Jeremy Corbyn had less positive words for the UK's new leader, having tweeted his criticism at having a leadership vote of which only Conservative Party members could take part.
He said: "Boris Johnson has won the support of fewer than 100,000 unrepresentative Conservative Party members by promising tax cuts for the richest, presenting himself as the bankers' friend, and pushing for a damaging no-deal Brexit."
"But he hasn't won the support of our country."
Brexit Party leader Nigel Farage simply asked if Johnson had "the courage" to deliver the Brexit he pledged to "get done".
What happens next?
Johnson has been elected as leader of the Conservative Party but is not yet officially the prime minister.
May will deliver her final Prime Minister's Questions in the House of Commons on Wednesday, before giving a speech outside Downing Street.
She will then travel to Buckingham Palace to inform the Queen that she is to hand over her duties to Johnson before Johnson himself will make a similar trip to the palace to confirm that he is now leader.
He will then travel back to Downing Street — his new residence — where he will make a speech.
The new prime minister will then begin deliberating and naming his new cabinet.
You can follow updates as the story unfolds in the live blog below.
Want more news?