Your Call in full: Was Ursula von der Leyen the right choice? Were Donald Trump's tweets racist?
Comments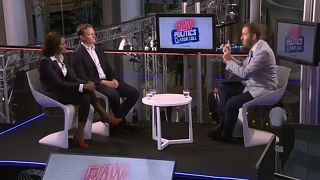 Euronews' Darren McCaffrey was joined by Belgian MEP Assita Kanko, a member of the European Conservatives and Reformists group, and British MEP Seb Dance, a member of the Socialists and Democrats group, on Wednesday evening for Your Call. The call-in show lets viewers from across Europe phone and Skype in to have their say on the issues directly affecting them at home.
On Wednesday night's episode, viewers and panellists debated if MEPs made a good decision by electing Ursula von der Leyen as President of the European Commission, how von der Leyen will handle Brexit negotiations, and whether or not US President Donald Trump's tweets targeting four Democratic members of Congress were racist.
Watch the video in the player above for the final episode of Your Call's first season. The show will return in September.