Vatican recovers bones as bid to solve mystery of missing girl goes on
Comments
By Claudio Lavanga and Linda Givetash and Associated Press and Reuters and Saphora Smith with NBC News World News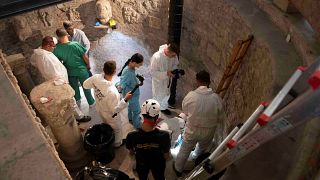 -
ROME — The Vatican recovered two sets of bones on Saturday as the decades-long search for a missing girl entered a new stage.
Emanuela Orlandi, the daughter of a Holy See employee, was 15 years old when she vanished after attending a music lesson in 1983. Hopes of solving the mystery were heightened in recent weeks after her family received a tip that she was buried in the tombs of two 19th-century German princesses.
But when investigators opened the tombs located in the cemetery of the Pontifical Teutonic College, not even the remains of the princesses were found.
The search of the tombs did, however, lead investigators to discover two sets of bones under a stone manhole a few yards away.
The remains were removed on Saturday from an area that is part of Teutonic College, which flanks the graveyard.
The bones will be analyzed by a forensic team, and while the Vatican couldn't provide a timeframe on the results, the process is expected to take several weeks.
Among those present Saturday as the tiny manhole covers were removed was a representative of the Orlandi family.
The latest twist in a case that has long gripped Italy came a few months ago when the family's lawyer received an anonymous tip.
"Last summer, I received an envelope," the lawyer, Laura Sgrò, told NBC News earlier this month. "I opened it and there was a picture of the statue of an angel in the Teutonic Cemetery inside the Vatican. And a letter that simply said, 'If you want to find Emanuela, search where the angel looks.'"
Despite much fanfare, that search came up empty. But the Vatican has continued in its effort to finally solve the mystery.
"With this latest expert operation ... the Vatican is once again showing its openness toward the Orlandi family," it said in a statement on Saturday.
The missing girl's brother, Pietro Orlandi, has kept the cold case alive for more than three decades. He has been critical of the Vatican's handling of the girl's disappearance and even accused Pope Francis of knowing what happened to her.
Over the years, Emanuela's disappearance has been linked to everything from the plot to kill St. John Paul II to the financial scandal of the Vatican bank and Rome's criminal underworld.
If his sister's remains are identified, Orlandi recently said he would expect the Vatican to open up an investigation into the murder and the concealment of the corpse.
Claudio Lavanga reported from Rome, and Linda Givetash from London.