Tanks arrive in D.C. for Trump's Fourth of July celebration
Comments
By Lauren Egan and Mosheh Gains with NBC News Politics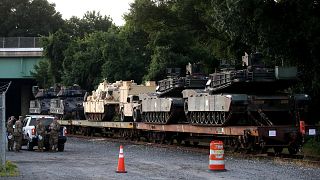 Copyright

Mark Wilson Getty Images

-
WASHINGTON — Tanks for President Donald Trump's "Salute to America" Fourth of July celebration were seen arriving in Washington Tuesday morning, just days before the event is scheduled to take place.
NBC News captured video of the tanks — two Bradley and two Abrams tanks — purportedly en route to the National Mall for Thursday's event. Also in transport are support vehicles, including an M88, used to help recover heavy armored vehicles.
A photographer for the Associated Press also spotted two M1A1 Abrams tanks along with four other military vehicles on a freight train in southeast D.C. Monday night.
On Monday, Trump told reporters that tanks would be stationed outside of the Fourth of July celebration, but gave no further details.
The Federal Aviation Administration also confirmed that they would suspend operations at Ronald Reagan National Airport, the closest commercial airport to D.C., from 6:15 pm to 7:45 pm ET due to the flyovers from Air Force One and other military planes. Operations at the airport will also be impacted from 9:00 pm to 9:45 pm ET, during the fireworks show.
Trump has spoken about hosting an event here in Washington that would display military prowess since he visited a similar event in Paris in 2017. Earlier plans were scratched after concerns were raised about the cost and infrastructure impact, with critics raising similar concerns about his plans for this week's holiday event.
Local officials and residents have pointed to the damage such massive military equipment could cause to area roads. And Democrats in Congress have criticized the president for putting on an unusually large production at taxpayer expense.
Others have charged Trump with turning a decades-old nonpartisan celebration into a political event.
Trump has promised that his speech, which he plans to deliver on the steps of the Lincoln Memorial, is aimed at all Americans and not just his supporters.
But on Monday, the Republican National Committee said they had received tickets to the Fourth of July event for distribution. Although the event is free and open to the public, the RNC tickets can get people access to better viewing areas, and seating.
An official from the Democratic National Committee confirmed to NBC News that, as of Tuesday morning, they had not received any tickets to the Independence Day celebration.