Italian luxury jeweler Bulgari opens sparkling exhibition in Rome
Comments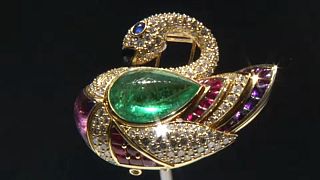 Italian luxury jeweler and watchmaker Bulgari is holding a sparkling new exhibition in the Italian capital Rome.
The exhibition - entitled "Bvlgari, the Story, the Dream" - showcases the luxury jeweler's course over time and how a small family business was transformed into a world leader in its field.
In the 1940s and 1950s with intense colour combinations and original designs, Bulgari became synonymous with luxury and its creations adorned the most famous actresses in Italian cinema, as well as those from the American movie industry and the glamorous world of Hollywood, with Elizabeth Taylor the luxury jeweler's biggest fan.
"We have the privilege to have some extraordinary collections in this exhibition. Miss Taylor is of obviously the most famous one. It is a collection we have acquired some time ago," said Bulgari's managing director.
The exhibition includes the diamond-and-sapphire sautoir necklace that Hollywood star Richard Burton gave Elizabeth Taylor during their stormy love affair.
The exhibition is hosted in two historical palazzos, Palazzo Venezia and Castel Sant'Angelo.
Palazzo Venezia tells the brand's history, beginning with its founding by Greek silversmith Sotirios Bulgaris in the late 19th century, who initially emigrated from Greece to Naples before moving on to Rome. The glamour comes in at Castel Sant'Angelo, where the "Hollywood and the Tiber" section features jewels owned or worn by legendary actresses including Sophia Loren, Gina Lollobrigida and Audrey Hepburn.
The installations also feature vintage haute couture pieces from the collection of Cecilia Matteucci Lavarini, with items from Christian Dior, Yves Saint Laurent and Schiaparelli.
The exhibition opens today and runs until November 3.