Egg production farms continue practice of mass culling of male chicks
Comments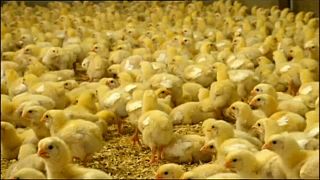 The mass culling of newly-hatched male chicks is widespread in the poultry industry around the world because cockerels do not lay eggs and industrial farming has no use for them.
The practice, which occurs in all industrialised egg production farms, whether they are free range, organic or battery cage, takes place at poultry farms in Germany and other countries, and has provoked a wave of reaction.
Despite protests by animal rights groups and comments from Germany's Agriculture Minister, who spoke of ethically unacceptable practices, Germany's highest court has ruled that it is legal for poultry and egg producers to kill unwanted male chicks, which are ground up shortly after they hatch and processed into animal feed.
The mass slaughter of male chicks is common practice across the world. In Germany alone, some 45 million male chicks die each year. It is estimated that the global egg industry kills about 4-6 billion male chicks each year just because they are male and will never grow up to lay eggs, nor do they grow fast enough to raise them for meat, which usually comes from female birds.
In 2013, the western German state of North Rhine-Westphalia issued an order which banned the slaughter of newly-hatched male chicks, though two egg hatchery farms in the state appealed the decision.