Russia to release investigative journalist Ivan Golunov, drop charges
Comments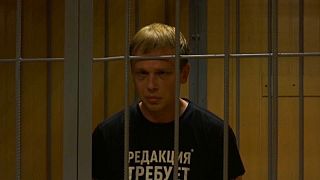 Russian authorities will release investigative journalist Ivan Golunov and drop all charges against him after an order from Interior Affairs Minister Vladimir Kolokoltsev in the wake of widespread public outcry amid allegations of a set-up.
The 36-year-old investigative journalist was arrested last week after law enforcement officials said they found drugs on him, and Golunov faced between 10 and 20 years in jail if found guilty. He had been detained under house arrest.
The journalist is well-known in Russia for investigating corruption especially among Moscow city officials and in his work he has threatened the interests of many powerful individuals.
A wave of protests followed Golunov's arrest, with his supporters alleging that he had been framed because of his work, and they threatened to proceed with further mass demonstrations.
Dozens of state media journalists, along with many private media outlets, also expressed their support for Golunov.
Announcing that Golunov would be freed, Russia's Interior Minister accepted that evidence had not been found showing his involvement in a criminal act.
He also made public that he would ask Russian President Vladimir Putin to suspend two heads of the Moscow police.