EU MEDIA unit backs European films and equality at Cannes Film Festival
Comments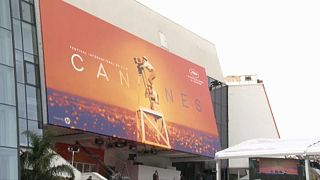 The 72nd annual Cannes Film Festival continues and all of the cinema industry is there.
The European Union's MEDIA programme, which supports creativity and seeks to strengthen competitiveness and increase cultural diversity in the European audiovisual sector, is also present. This year it supports 20 of the films at the Festival, including one third of the films that are in competition at Cannes.
Among them is Jessica Hausner's film "Little Joe", a sci-fi drama about a genetically modified plant, which seemingly causes uncanny changes in other living creatures.
This year there's a special emphasis on the participation of women in the cinema industry. However, from the 21 films competing for the prestigious Palme d'Or, only four are directed by women.
Lucía Recalde, the head of the EU's MEDIA unit, says there is still a long way to go to bolster equality for women in the film industry.
"Of course there is a long way to go, because we have also gathered data and it shows that still there is an obvious inequality that has to be addressed," she said.
Spanish filmmaker Carla Simón's feature debut "Summer 1993", which is based on an autobiographical coming-of-age story told from the perspective of a six-year-old orphan girl who is forced to live with her aunt and uncle, has already won awards at the Berlinale and other international film festivals. It was supported by the MEDIA programme.
"MEDIA has a stamp of quality that helps a lot when you go to your national funds. So it helps because they know OK, if it has been MEDIA selected, it somehow means that the project is good," Simón explains.
In a bid to encourage European productions, the EU plans to introduce a minimum European content quota of 30% on video-on-demand and streaming services, with discussions focused on how this will be measured.
"The fact that there is a quota for European films, I think it's super important to give a chance to these films to appear and be seen by the audience," Simón added.
"So far companies like Amazon and Netflix stream less than 20% European content and there's no time to lose, the 30% quota kicks in across the EU in autumn of next year. Will it encourage more women in film? Only time will tell," said Chris Burns for Euronews at the Cannes Film Festival.