May says Labour lacks 'common Brexit position' during EU election rally in Bristol
Comments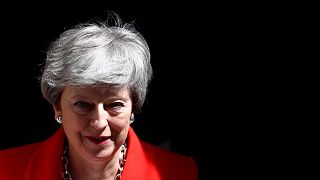 UK Prime Minister Theresa May was in Bristol Friday, campaigning for her Conservative Party ahead of next weekend's European Parliament elections.
It comes after the Labour Party announced that talks with the Conservatives to end the Brexit stalemate had collapsed. In a tweet, Labour leader Jeremy Corbyn shared his letter to May in which he said finding a compromise agreement have "gone as far as they can".
May is also under fierce pressure from her own party to quit after her former foreign minister, Boris Johnson, said he wanted to be in the running to replace her. Speculation is now surrounding a number of prominent Conservative figures on whether or not they would bid for the Tory top spot.
"So, if you want a party that votes in the national interest, then vote Conservative," said May in a short address to the crowd in Bristol.
"To vote for a party that can deliver Brexit, vote Conservative," May added in cadence, "to vote for a party that will take this country forward to a brighter future, vote Conservative."
Following her short address, May was asked by a reporter about Labour ending talks with the government
"Well as Jeremy Corbyn says, these talks have been constructive and we've made progress. There are areas where we have been able to find common ground, but other issues have proved to be more difficult," said May.
The PM then pushed back against Labour's position on Brexit.
"In particular, we haven't been able to overcome the fact that there isn't a common position in Labour about whether they want to deliver Brexit or hold a second referendum, which could reverse it."
May warned that when MP's come to vote on the bill they will be faced with a "stark choice," to either vote on delivering on the referendum and to deliver Brexit, or, to shy away again from delivering Brexit and "all the uncertainty" that would leave.