Liverpool reach Champions League final after 4-0 win over Barcelona
Comments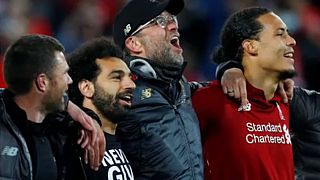 Words cannot describe what happened at Anfield on Tuesday night after Liverpool produced one of the greatest comebacks in Champions League history as they beat Barcelona 4-0, overturning a three-goal first-leg deficit and advancing to the final with a 4-3 aggregate victory.
In a stunning match, Liverpool produced a legendary turnaround that will surely go down in the tournament's as well as the club's already prestigious history.
Liverpool manager Jürgen Klopp was in seventh heaven.
"For me this club, to have to describe it, it's a big heart and tonight it was obviously (pumping) like crazy, pounding like crazy," the Liverpool manager said.
The sports pages of British newspapers had screaming headlines including: "Mersey Miracle", "Miracle of Anfield", "Out of this world" and "Comeback kings".
"I said to the boys before the game, I don't think it's possible, but because it's you, I think we have a chance. Because they are mentality giants. It's unbelievable. It's after the season we played, the games we played, the injuries we have now at this moment. If you go out there and ask who would've bet a penny on us, I don't think you'll find a lot of people," Jürgen Klopp added.
For Barcelona, the defeat was a bitter pill to swallow and the mood was somber in the dressing room after the match as it was the second year in a row that the Catalan side had been knocked out of the Champions League tournament as a result of a shock comeback.
Barcelona manager Ernesto Valverde was still stunned.
"The truth is that they played very strongly and very well. We must congratulate them for the match they played. And I want to say something else. It is painful for us, because it is the second year we are going through something like this and we did not expect it. We should have concentrated more, but we have been knocked out again," he said.
On the front sports pages of Spanish newspapers, the Catalan Sport had a black front page and a banner headline saying: "The biggest ridicule in history", while Mundo and Marca said: "Shame" and "Historic failure" to describe the match at Anfield.