Tusk says European Parliament should be open to long Brexit extension
Comments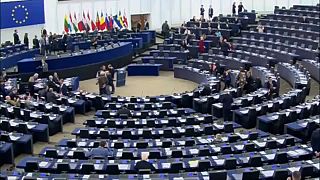 The European Parliament should be open to a long extension for Brexit, European Council President Donald Tusk said on Wednesday, telling Euro MPs that they must not ignore the British people who want their country to remain in the European Union.
"You cannot betray the 6 million people who signed a petition to revoke Article 50, the 1 million people who marched for a peoples' vote, or the increasing majority of people who want to remain in the European Union. They may feel that they are not sufficiently represented by the UK parliament, but they must feel that they are represented by you in this chamber, because they are Europeans," said European Council President Donald Tusk.
In a tweet after his speech, he added that parliament should be open to a long extension, if Britain wishes to rethink its strategy.
There were mixed reactions from MEPs.
"I am personally of the opinion that, not now but within a few generations there will be the return of Britain inside the family of European nations. That's the place of Britain: to be inside the European Union, not outside the European Union," said head of the European liberals Guy Verhofstadt.
There was an intense reaction from Nigel Farage, who was one of the basic proponents of a vote in favour of Brexit in the UK.
"Do you really want me back in this place... Well, there we are. And all for what? Because Brexit is going to happen anyway. Mr Tusk, if you think the British people have changed their minds on Brexit, you sir are deluded," said British MEP Nigel Farage.
Speaking at a plenary session of the European Parliament in Strasbourg, Donald Tusk also announced the convening of an emergency session of the European Council in April to discuss developments relating to Brexit.